Quitting smoking is the hardest resolution to keep
Meera Senthilingam | 1/10/2017, 6 a.m.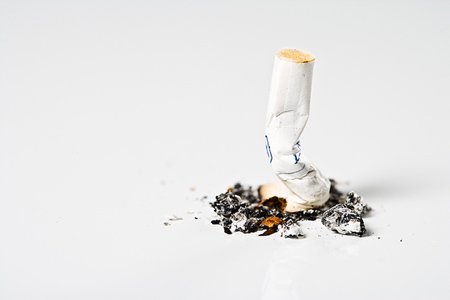 continued — "It's not so much the topic, it's how realistic the goal is," Norcross said, adding that for the most successful resolution, "it doesn't say 'fix,' it says 'improve' ... so they will have a much higher success rate."
The fact that people self-reported their success inevitably brings some bias to the findings, in addition to the fact that people had to recall things from earlier in the year, said Norcross.
But also worth noting is the broadness of the data.
"We don't know how people characterize their success rates. ... We don't have a sense of magnitude for improvement," said Norcross, giving the example of playing sports and not knowing whether people played once a week or every few months.
For its next survey, Stephenson said, the Royal Society of Public Health will be asking participants for more detail and will inquire further about what threw people off their resolutions.
Global similarities
These findings are likely to be reflected in other countries, including the United States, Stephenson said, underscoring "some of the challenges individuals face in both changing behavior and maintaining" their resolutions.
A 2017 Marist Institute of Public Opinion resolution poll of more than 400 people in the United States found smoking to be the seventh most popular resolution, chosen by 6% of those polled. The most common resolution was wanting to be a better person (16%), followed by wanting to lose weight.
In earlier studies by Norcross in 2002, the most popular resolutions still related to stopping smoking, weight loss and increasing exercise.
Tips for success
To prepare your mind to succeed in maintaining your resolution, Norcross uses the analogy of learning a new sport or skill. A person doing that is likely to slip up and make mistakes -- but they should then learn from those slip-ups.
"Let's say you wanted to learn tennis," he said. "People say they would have to take lessons, it would take some time, and they are likely to make mistakes, and that's right." The same is true when quitting smoking or committing to eating healthier foods.
Successful people know that a slip is not a fall, he said, and relapses are common -- and expected. "It's like someone missing a shot in tennis and not playing again. It's really quite silly when you think about it," he said.
But people should be encouraged by the survey numbers, Norcross said, adding that averaging across all resolutions, about 40% of people remain successful at six months. Once there, they are more likely to last the year.
Both Norcross and Stephenson stress that willpower is not enough, not matter how much you may hear otherwise.
"In our studies, people who primarily relied on willpower failed at three times the rate of everyone else," Norcross said, adding that many steps are needed to make a resolution last. "It starts with getting prepared, rewarding yourself, developing a flourishing environment that supports you and creating the behavior."
Stephenson agrees, adding that people should "not be discouraged if they relapse," he said. "It is difficult to maintain behavior change, but if you make small changes, it can have a huge effect."