Democrats search for the next Obama
1/18/2017, 6 a.m.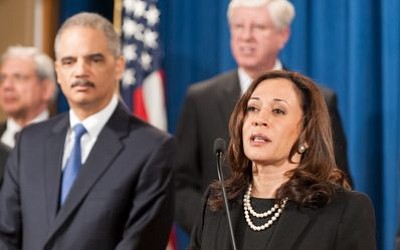 She's a lawyer by trade and an accomplished politician who in November became just the second African-American woman to become a U.S. Senator.
He's considered a favorite to become the next head of the Democratic National Committee.
Senator Kamala Harris of California and Rep. Keith Ellison of Minnesota are among the new movers and shakers of the Democratic Party.
But, are they the next Barack Obama?
That's what many Democrats are wondering.
Obama's meteoric rise was first detected in 2004 — four years before stunning the world to become the first Black president. He'd given a powerful keynote at the Democratic National Convention and then went on to win election to the senate later that year.
America's 44th president is now completing his second and final term in the Oval Office and his party is in a state of disarray after Hillary Clinton's disappointing loss to Donald Trump in November.
The unexpected and epic loss means that Democrats have four years to come up with the right candidate, someone who might just be African-American or a woman.
Harris and Ellison are among the names political watchers have bandied about along with New Jersey's Corey Booker and even CNN contributor and former White House aide Van Jones.
"Barack Obama will be a hard act to follow," said Riley H. Rogers, the mayor of Dolton, Illinois, which is just south of the president's hometown of Chicago. "Everything came into alignment and facilitated Obama's victory."
Rogers, who was selected as a floor delegate at the Democratic National Convention in Philadelphia, Pa., said that Obama is a brilliant and unique individual who came at the right time, but he believes there are others who can ascend to the national stage and become leaders.
"There are some bright stars in the Democratic Party such as Senator Napoleon Harris and Congresswoman Robin Kelly," Rogers said.
The 6-foot-3 and 250 pound Harris, a former pro football player and current Illinois state senator, made news recently when he was ambushed by four men as we was delivering a pizza for a franchise that he owns. Harris survived the attack and helped police track down his assailants, who were later linked to a murder.
Kelly succeeded Jesse Jackson Jr. as the Illinois lawmaker in the House of Representatives and she's been mentioned throughout the Chicago area for more than a decade as a potential star.
Rogers, a member of the African American Mayors Association, said there's a need for someone with new ideas and leaders with a vision.
"Not just the same ideas of the past," he said. "The next elected official who captures that energy can be successful, but it won't be easy."
Several others noted that Corey Booker, who was on the short list for vice president under Clinton before she chose Tim Kaine, has to be considered as a rising star.
"There's Kamala Harris and Senator Corey Booker who has risen to fame because of his youth, fresh ideas and political intellect," said Jasmine Burney, a Florida-based political consultant and founder of the online community, "Chicks 'n Politics."