Black Women Business Moguls to Compete on "Queen Boss" Reality TV Show Hosted by Tracey Edmonds
1/23/2017, 5 p.m. | Updated on 1/23/2017, 11:41 a.m.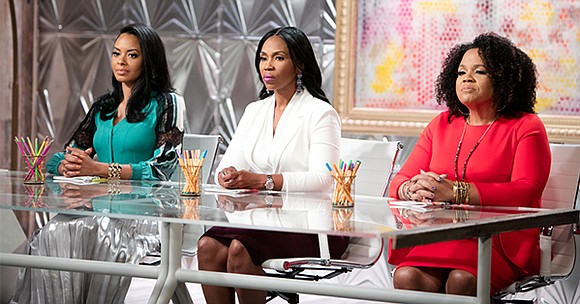 Over 500,000 new businesses start up each month in the United States, and African-American women represent the fasting-growing group of entrepreneurs. But how do these women know if they have a great concept for a business, and if they have the skills to be a C.E.O.? CENTRIC 10pm EST, in its first business competition-reality series "Queen Boss."
Hosted by television personality and business woman Tracey Edmonds, "Queen Boss" is a new 8-episode series that strives to find the best and brightest African-American female entrepreneurs and have them compete for the business opportunity of a lifetime. Each week, 3 new female entrepreneurs will step into the "Queen Boss Conference Room" where they'll pitch their products to a panel of esteemed celebrity judges including Vanessa Simmons, Lauren Lake, Kandi Burruss, Carla Hall, Mikki Taylor, Lisa Price, Rakia Reynolds, Angela Benton and Robin Wilson. The entrepreneurs are all impressive women, but the judges put them to the test to see who has the Product, Passion, and Potential to win the competition.
Here's how it works. Each episode of "Queen Boss" features two distinct rounds of competition. In the first round, three of the competing entrepreneurs pitch their individual products to the judges who then deliberate with the host and eliminate one of the three entrepreneurs from the competition. In round two, the remaining two entrepreneurs are put to the ultimate test by competing against each other in a business challenge. The business challenges – which range from executing the perfect elevator pitch, out-trading the local professionals in the SoHo flea market scene, and creating a viral marketing on social media, — take the ladies out of the boardroom and into the streets of New York City to see if they can show the judges they have the passion, creativity, and brains to win. The 6 winners return for a semi-final and final round episodes, as the judges narrow the field and ultimately select one woman to win the grand prize $25,000 "Queen Boss Start-Up Fund" to get her business off the ground and the title of "Queen Boss!"
"Queen Boss" is produced by Ora TV, with Jon Housman the Executive Producer and Blake Levin the Showrunner and Executive Producer of the series. SWSI Media co-produced, with Heidi Lehmann, Marci Weisler, and Suzette Cabildo serving as Co-Executive Producers. Leonard Burnett, Jamie Schutz, and Lindsay Roth also produced."
For more details about the show, visit www.centrictv.com/shows/queen-boss