SAG Awards 2017 gets political
Lisa Respers France | 1/30/2017, 2:18 a.m.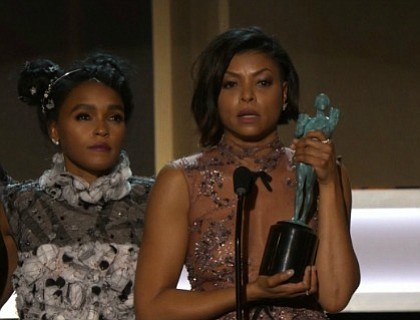 (CNN) — From the moment the 23rd Annual Screen Actors Guild Awards ceremony began Sunday, the stars wasted no time diving right into politics.
From "Scandal" star Kerry Washington explaining that actors are activists to Ashton Kutcher declaring "I am a citizen of the world," Hollywood did not shy away from what was on the mind of many in attendance -- President Trump's travel ban.
Kutcher, who was announcing the award for outstanding performance by a female actor in a comedy series, greeted "everyone in airports that belong in my America."
"You are a part of the fabric of who we are," Kutcher said. "And we love you and we welcome you."
Kutcher presented the award to "Veep" star Julia Louis-Dreyfus, who said in her acceptance speech that she is the daughter of an immigrant who fled the persecution of Nazi-occupied France.
"Because I love this country I am horrified by its blemishes," she said. "The immigrant ban is a blemish and un-American."
The award for outstanding performance by a male actor in a comedy series went to William H. Macy for his role in "Shameless.
With so much attention on the travel ban this weekend, there had been an expectation that at least some award winners would utilize their moment in the spotlight to express their thoughts on the current state of our country.
Several winners touched on the ban, including Sarah Paulson, who won the outstanding performance by a female actor in a television movie or miniseries award for her role in "The People v. O.J. Simpson: American Crime Story."
Amid her remarks Paulson encouraged people to donate to the American Civil Liberties Union.
David Harbour, who stars as police chief Jim Hopper on "Stranger Things," got the audience whipped up with his acceptance speech aimed at White House policies when the cast won for the outstanding performance by an ensemble in a drama series.
But it was "Moonlight" star Mahershala Ali who offered one of the most emotional moments of the night.
After winning the award for outstanding performance by a male actor in a supporting role, Ali shared that his mother is an ordained minister who was not thrilled when he converted to Islam 17 years ago.
"But I tell you, now, you put things to the side and I'm able to see her and she's able to see me. We love each other," Ali said. "The love has grown. And that stuff is minutia. It's not that important."
Emma Stone won for outstanding performance by an actress in a leading role for "La La Land."
Denzel Washington was presented the award for outstanding performance by an actor in a leading role for "Fences." His is costar Viola Davis won for supporting actress.
The surprise of the evening came with the outstanding performance by a cast in a theatrical motion picture win by "Hidden Figures." Cast member Taraji P. Henson paid tribute to the women who were the subjects of the film, a group of African American NASA employees who were integral to the space race. The actress talked of the lessons that could be learned from them and how they overcame discrimination.