SAG Awards 2017 gets political
Lisa Respers France | 1/30/2017, 2:18 a.m.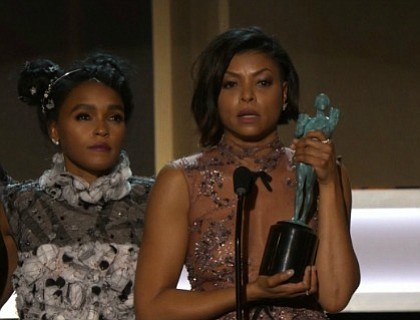 continued — "Love wins every time," said Henson, who then added "these women are hidden figures no more."
Legendary comedic actress and "Grace and Frankie" star Lily Tomlin received a standing ovation after her "9 to 5" costar Dolly Parton presented her with the Lifetime Achievement Award.
Tomlin kept the audience in stitches with her acceptance speech, including her advice to young people in the industry.
"Behind every failure is an opportunity someone wishes they had missed," Tomlin said.
Typically, the night is for Hollywood, voted on by Hollywood.
Winners are determined by members of the Screen Actors Guild. The show has no host, so it's not like other awards ceremonies where the tone is set by the monologue.
At this year's Golden Globes, renowned actress Meryl Streep sparked days of conversation when she used the speech she gave while accepting the Cecil B. DeMille Award to express her concern over Trump's election and actions.
"There was one performance this year that stunned me," she said. "It sank its hooks in my heart. Not because it was good, there was nothing good about it, but it was effective and it did its job."
It's more likely now that someone will follow in Streep's footsteps Sunday night due to the travel ban, and the way that it has already hit home for Hollywood.
Asghar Farhadi, the director of "The Salesman," which has been nominated for the Oscar for best foreign-language film, has said he will not attend this year's Academy Awards in protest against the ban. Farhadi is Iranian, and so would have been kept out of the U.S. due to the ban, but could possibly have requested an exception had he wanted to.
The SAG Awards air simultaneously January 29 at 8 p.m. ET on TNT and TBS. (Both networks are, like CNN, owned by Time Warner.)