Serena Williams beats Venus Williams to win record 23rd major
1/30/2017, 2:44 a.m.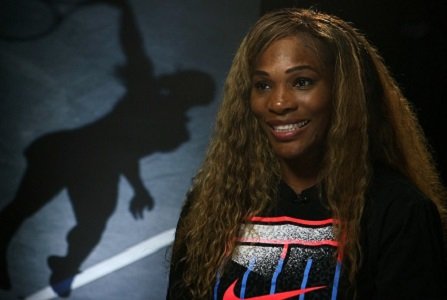 (CNN) — MELBOURNE -- Serena Williams rewrote tennis history books once again, this time with sister Venus across the net and her fiance Alexis Ohanian watching from the stands.
When Serena beat her older sibling in the Australian Open final 6-4 6-4, she collected a 23rd grand slam title to surpass Steffi Graf for the Open Era lead.
Now she only trails all-time leader Margaret Court by one major and the way she played in Melbourne -- not dropping a set -- Serena, 35, is looking good to achieve that feat later in 2017.
"It's never enough, 23, 24, 25," Serena told the crowd after her win. "I felt like I really elevated my game this year.
"It's such a great feeling to have 23. I've been chasing it for a really long time," she later told reporters. "I knew I had an opportunity to get it here and I'm here."
As a considerable bonus Saturday evening, Serena also regained the No. 1 ranking from Angelique Kerber. Last year the German upset Serena Williams to win the title.
"I didn't know that," said Serena. "It feels good."
Serena had her game face on throughout, but the sisters exchanged an extended hug after Serena converted on her first match point in one hour, 22 minutes. The competitors in them took a backseat.
"Your win has always been my win," Venus told the crowd, referring to Serena. "All the times I couldn't be there, didn't get there, you were there."
It simply wasn't meant to be for Venus, who appeared to be the crowd favorite at Rod Laver Arena.
At 36, she was the oldest Australian Open finalist in the Open Era. Her celebration after winning in the semifinals is sure to be one of tennis' memorable moments come the end of the long campaign.
Venus had last played in a grand slam final in 2009 at Wimbledon, when Serena once again came out on top. Her career has been slowed after she was diagnosed with autoimmune disorder Sjogren's Syndrome in 2011.
"It was great to have an opportunity to play for the title," Venus said. "That's exactly where I want to be standing during these grand slams. That's the highlight of all this, is to be in that moment."
In keeping with their head-to-head record -- Serena now leads 17-11 and 7-2 in grand slam finals -- it was her kid sister who would have the final say in Melbourne.
"I say this to you every year but I find her capable of doing things completely out of the ordinary," Patrick Mouratoglou, Serena's coach, told reporters.
The sisters have always been close but it was all business, especially from Serena, even before the match -- the oldest grand slam women's final in the Open Era in combined age -- began.
They didn't chat in the tunnel on the way to the court. Venus placed her arm around Serena for the habitual pre-match photo, but Serena kept both hands by her side.