Trump fires acting AG after she declines to defend travel ban
1/31/2017, 12:13 a.m.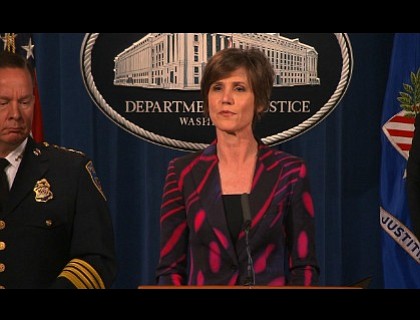 continued — "And that was it did not appear to be specific in nature," Sessions said referring to the executive order. "So it may be a matter of clarity it may be a matter of illegality to him, it may be a matter of several things. It did not look as complete and succinct as what I think I would've wanted."
Rep. Elijah Cummings, the top Democrat on the House Oversight Committee, praised Yates for standing up "on principle."
"In all my years as a member of Congress, which now is 21, I've met so many very principled people who truly believe in the Constitution and doing what is right," Cumming said. "There comes a time when people, no matter who may be their boss, they stand upon their principles, so at the end of the day they can look them selves in the mirror and say 'I synchronized my conduct with my conscience.' And Yates is such a person."
Currently, there are cases filed in at least five states including Virginia, New York, Massachusetts, Washington and California that are challenging Trump's order.
The decision effectively grounds the executive order for the next few days until Sessions is sworn in.
"This will be moot. Then we will very much see the Trump Justice Department led by Jeff Sessions defend this executive order pretty vigorously. And then it will be up to the courts," said Steve Vladeck, a CNN contributor and law professor at the University of Texas School of Law.
Senate Minority Leader Chuck Schumer told CNN's Erin Burnett Monday the Justice Department decision reflects poorly on the Trump administration.
"When you do something as important as this, it can't be a Twitter-type of activity," Schumer said. "This has to be thoroughly vetted ... and it's a very bad omen for this presidency."
Activists who have led the fight against Trump's immigration ban lauded Yates' action Monday night.
"We took to the court room, people took to the streets and now principled federal officials are drawing a hardline on this shameful and unconstitutional act by President Trump. This is what we rely on the Department of Justice for, to uphold the rule of law no matter how the political wind is blowing," said Karen Tumlin, the National Immigration Law Center's legal director.
Lee Gelernt, the American Civil Liberties Union lawyer who argued against the immigration ban in court in New York, praised Yates' decision and called on the next attorney general to "continue with that policy."
"This ban will do irreparable damage to real people and to American values," he said.
CNN's Kevin Liptak and Theodore Schleifer contributed to this report.