Kelly Clarkson is not here for your body shaming
Lisa Respers France | 7/5/2017, 2:52 p.m.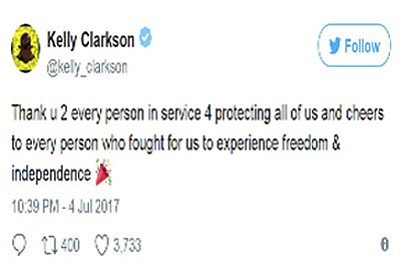 (CNN) — Troll Kelly Clarkson at your own risk.
The Grammy-winning singer shut down a Twitter user who had something to say about her weight.
It started Tuesday when Clarkson tweeted a note of thanks to service members in honor of the 4th of July holiday.
"Thank u 2 every person in service 4 protecting all of us and cheers to every person who fought for us to experience freedom & independence," Clarkson wrote.
A troll commented "You're fat" in response.
The new "Voice" coach shot back with a tweet saying "and still f*ing awesome."
Clarkson's followers loved it.
"I'm sure she'll cry about being fat while shining her Grammys and counting her money," one supporter tweeted. "Haters need to get a life."
It's not the first time the celeb has been a target for criticism about her size.
Two years ago, Clarkson reportedly laughed it off after British personality Katie Hopkins tweeted negative comments about her weight.
The singer later told Ellen DeGeneres that she's been dealing with such remarks since before she won the first season of "American Idol."
"Yeah, I was the biggest girl on ['American Idol'] too," Clarkson said. "And I wasn't big, but people would call me big because I was the biggest one on 'Idol,' and I've kind of always gotten that."