How sunscreen works
7/6/2017, 5:07 p.m.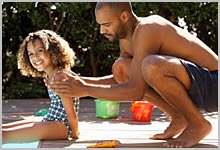 (CNN) — Not so long ago, people like my Aunt Muriel thought of sunburn as a necessary evil on the way to a "good base tan." She used to slather on the baby oil while using a large reflector to bake away. Aunt Muriel's mantra when the inevitable burn and peel appeared: Beauty has its price.
Was she ever right about that price -- but it was a lot higher than any of us at the time recognized. What sun addicts didn't know then was that we were setting our skin up for damage to its structural proteins and DNA. Hello, wrinkles, liver spots and cancers. No matter where your complexion falls on the Fitzpatrick Skin Type scale, ultraviolet radiation (UV) from the sun or tanning beds will damage your skin.
Today, recognition of the risks posed by UV rays has motivated scientists, myself included, to study what's going on in our cells when they're in the sun -- and devise modern ways to ward off that damage.
What happens when sun hits skin
Sunlight is composed of packets of energy called photons. The visible colors we can see by eye are relatively harmless to our skin; it's the sun's ultraviolet (UV) light photons that can cause skin damage. UV light can be broken down into two categories: UVA (in the wavelength range 320-400 nanometers) and UVB (in the wavelength range 280-320 nm).
Our skin contains molecules that are perfectly structured to absorb the energy of UVA and UVB photons. This puts the molecule into an energetically excited state. And as the saying goes, what goes up must come down. In order to release their acquired energy, these molecules undergo chemical reactions -- and in the skin that means there are biological consequences.
Interestingly, some of these effects used to be considered helpful adaptations -- though we now recognize them as forms of damage. Tanning is due to the production of extra melanin pigment induced by UVA rays. Exposure to the sun also turns on the skin's natural antioxidant network, which deactivates highly destructive reactive oxygen species (ROS) and free radicals; if left unchecked, these can cause cellular damage and oxidative stress within the skin.
We also know that UVA light penetrates deeper into the skin than UVB, destroying a structural protein called collagen. As collagen degrades, our skin loses its elasticity and smoothness, leading to wrinkles. UVA is responsible for many of the visible signs of aging, while UVB light is considered the primary source of sunburn. Think "A" for aging and "B" for burning.
DNA itself can absorb both UVA and UVB rays, causing mutations which, if unrepaired, can lead to non-melanoma (basal cell carcinoma, squamous cell carcinoma) or melanoma skin cancers. Other skin molecules pass absorbed UV energy on to those highly reactive ROS and free radicals. The resulting oxidative stress can overload the skin's built-in antioxidant network and cause cellular damage. ROS can react with DNA, forming mutations, and with collagen, leading to wrinkles. They can also interrupt cell signaling pathways and gene expression.