How sunscreen works
7/6/2017, 5:07 p.m.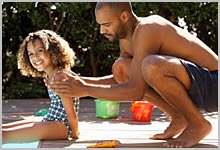 continued — The end result of all of these photoreactions is photodamage that accumulates over the course of a lifetime from repeated exposure. And -- this cannot be emphasized enough -- this applies to all skin types, from Type I (like Nicole Kidman) to Type VI (like Jennifer Hudson). Regardless of how much melanin we have in our skin, we can develop UV-induced skin cancers and we will all eventually see the signs of photo-induced aging in the mirror.
Filtering photons before the damage is done
The good news, of course, is that the risk of skin cancer and the visible signs of aging can be minimized by preventing overexposure to UV radiation. When you can't avoid the sun altogether, today's sunscreens have got your back (and all the rest of your skin too).
Sunscreens employ UV filters: molecules specifically designed to help reduce the amount of UV rays that reach through the skin surface. A film of these molecules forms a protective barrier either absorbing (chemical filters) or reflecting (physical blockers) UV photons before they can be absorbed by our DNA and other reactive molecules deeper in the skin.
In the United States, the Food and Drug Administration regulates sunscreens as drugs. Because we were historically most concerned with protecting against sunburn, 14 molecules that block sunburn-inducing UVB rays are approved for use. That we have just two UVA-blocking molecules available in the United States -- avobenzone, a chemical filter; and zinc oxide, a physical blocker -- is a testament to our more recent understanding that UVA causes trouble, not just tans.
The FDA also has enacted strict labeling requirements -- most obviously about SPF (sun protection factor). On labels since 1971, SPF represents the relative time it takes for an individual to get sunburned by UVB radiation. For example, if it takes 10 minutes typically to burn, then, if used correctly, an SPF 30 sunscreen should provide 30 times that -- 300 minutes of protection before sunburn.
"Used correctly" is the key phrase. Research shows that it takes about one ounce, or basically a shot glass-sized amount of sunscreen, to cover the exposed areas of the average adult body, and a nickel-sized amount for the face and neck (more or less, depending on your body size). The majority of people apply between a quarter to a half of the recommended amounts, placing their skin at risk for sunburn and photodamage.
In addition, sunscreen efficacy decreases in the water or with sweating. To help consumers, FDA now requires sunscreens labeled "water-resistant" or "very water-resistant" to last up to 40 minutes or 80 minutes, respectively, in the water, and the American Academy of Dermatology and other medical professional groups recommend reapplication immediately after any water sports. The general rule of thumb is to reapply about every two hours and certainly after water sports or sweating.
To get high SPF values, multiple UVB UV filters are combined into a formulation based upon safety standards set by the FDA. However, the SPF doesn't account for UVA protection. For a sunscreen to make a claim as having UVA and UVB protection and be labeled "Broad Spectrum," it must pass FDA's Broad Spectrum Test, where the sunscreen is hit with a large dose of UVB and UVA light before its effectiveness is tested.