Home Depot Celebrates 20th Anniversary of Kids Workshops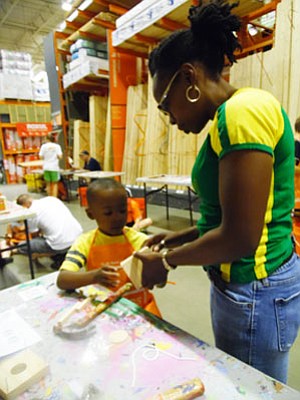 School is out for the summer and finding fun, free activities for kids to do can leave parents wondering where to turn. Parents who are looking for creative activities may find one opportunity closer than they think. Over the last 20 years, more than 55 million boys and girls have attended The Home Depot's Kids Workshops, where projects have played an integral role in science, technology, engineering, arts, math (STEAM) education for children at a young age.
On July 1, 2017, over 75 children showed up at The Home Depot's Lansdowne store located at 3750 Commerce Drive in Halethorpe, Md., eager to make a wooden bughouse project with their parent's assistance. The Home Depot, which is the world's largest home improvement specialty retailer, celebrated the 20th anniversary of the Kids Workshop program with a special birthday party, snacks, and a hands-on Kids Workshop in stores nationwide.
All materials needed to complete the bughouse projects were provided onsite. Children were permitted to take their craft—constructed to hold critters—home. They also received a certificate of achievement, The Home Depot Workshop apron, and a commemorative 20th pin. Margaret Platz, a garden associate who works at Home Depot in Lansdowne, stayed busy signing in workshop participants and passing out materials to parents.
"We do the Kids Workshop the first Saturday of every month, no matter what the date is, usually the first through the seventh. It's totally free. It's a fun activity for the kids to come out, learn how to use basic tools, [try] carpentry, paint, and get started on 'Do It Yourself' projects," Platz said. "The kids have a great time. They get a pin every time they come. Each pin is [for] a different project. The kids count their pins, and when they get 10 pins, 25 pins, 75 pins or 100 pins, we have special pins to celebrate. We have two kids that are real close right now to 100 pins. So, there [are] a bunch of kids that come all of the time."
Twelve-year-old Ethan Griffin is a regular participant who has earned over 71 pins. It took five or six years to earn them at The Home Depot's Lansdowne location. He likes completing free projects that come with free bonuses like snacks, and seeing some of his friends.
His father, Jeff Griffin, explained that following directions is a valuable element involved in making projects during the Kids Workshop. He believes that will lead to Ethan being able to complete projects on his own.
"It [coming to the workshops] started off as something to get [Ethan] out of the house on Saturday mornings. It's free to do. We started doing that and eventually my father started coming along. And that was something they could do together because the handyman gene did not get passed down to me from my father, so he would come and he would help for a lot of these," Jeff said. "And now he has since passed, we still come back and do this stuff. It's like a tradition. My father almost looked forward to it maybe more than [Ethan] did."