Home Depot Celebrates 20th Anniversary of Kids Workshops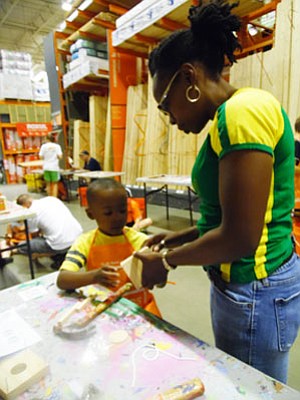 Newcomers like Paula Gerald of Catonsville showed up with their children to give the Kids Workshop a try. Five-year-old Graham Gerald enjoyed spending some one-on-one time with his mother. Graham proudly held his bughouse while agreeing that he learned new skills from making the project. It was his first time using a hammer, nails and tacks with his mother's help and a great opportunity for the mother and son to do things together.
"It's kind of nice to know that we live in a community or (are located near) surrounding areas that support family activities like this, especially for such young ages, because sometimes there are not that many things for the young ages," Gerald said. "But I think we're doing a really good job as a community to bring a lot more of those."
More opportunities designed for kids from ages 5-12 to learn hands on motor skills ranging from sanding and hammering to painting are on the way. On August 5, 2017, another free workshop will allow parents and children to build, paint and decorate a wooden Penske truck. Parents can register their children for Kids Workshops online in advance. To find a participating Home Depot store in your area, visit: www.homedepot.com/workshops.