Pfizer, NNPA partner to spread awareness about Sickle Cell Disease
NNPA Newswire Contributor | 7/28/2017, 6 a.m.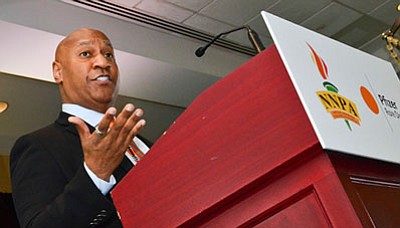 He continued: "Together with Pfizer, we look forward to providing sickle cell disease education that can underscore the importance of improving quality of care in the community."
As part of the collaboration, Williams will write a regular column for the NNPA Newswire and BlackPressUSA.com discussing the genetic disorder.
Also, the results from the national poll are expected to be released in September, and Pfizer and NNPA officials are hoping that it will help more African-Americans seek proper health care and obtain better guidelines for treatment.
"We will use the poll to provide additional context…have a better understanding of the perceptions related to clinical trials," said Jennifer Lichtner, the global marketing lead for SCD in Pfizer's rare disease unit.
The poll results and information about SCD will be shared with the NNPA network and incorporated into educational programs at NNPA events.
Pfizer will also post and share information about the poll with a goal toward helping to assist more African-Americans and others in underserved and underrepresented communities.
"At Pfizer, we are committed to delivering life-changing therapies to people living with rare diseases, like sickle cell disease. Our commitment also goes beyond clinical research to supporting the rare disease community through innovative collaborations," Williams said. "Working together, we hope to improve awareness and ultimately address the unmet medical needs of sickle cell disease patients."