In Celebration of Older Americans Month: Liberty's Lite Holds Book Club Extravaganza
6/2/2017, 6 a.m.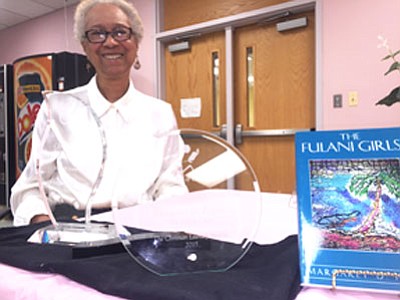 continued — Stella Adams, who is the author of the book and stage play Heavy is the Rain, also participated in the event.
"This venue is excellent," said Adams. "I don't think folks realize how many people are doing literary things in Baltimore. This is a great networking event. It provided great exposure to let people know about the new projects I am working on. Another great part of this event is that it also shows that once you get to a certain age, life is not over. You can reinvent yourself."
Fred C. Gilmer, 69, also participated in the event. He is the author of Random Thoughts of a Simple Mind and Trading Letters.
"This is a great event," said Gilmer. "I am fairly new at writing books. But there are many professionals here, and I have learned a lot from them about publishing a book. I began writing because I am disabled, and had some time on my hands. I was sitting at home doing nothing. I got together with my computer, and we cranked out two books."
Other authors to participate in the event included: Odessa Rose; Maurice Dorsey; Althea Carrington; Dr. Estella Ingram; Elaine Joyce; Dr. Stephanie Reid; Mary Henderson; Tawanda Prince; Valerie McDowell; Emmettia A. Henderson; Dr. Leonard Richardson; Judy Colbert; Aisha Banks; Lolita Kelson; Joyce Smith; Wilma Brockington; Vincent Anthony; and Sheri Booker.