Mindful eating: 'Suddenly, you have power over food'
6/14/2017, 5:01 p.m.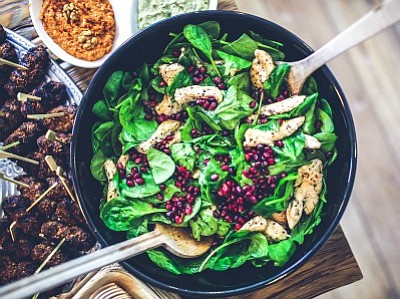 (CNN) — It happened by accident.
Kathryn Hutchinson, a 52-year-old retired teacher, was accompanying her father to a doctor's appointment last year when his doctor recommended that Hutchinson make an appointment of her own.
Hutchinson was diagnosed with prediabetes at the time and was obese, with severe arthritis and a history of depression. Her father's doctor knew an endocrinologist who could help her.
"My knees were killing me. I've already had my hips replaced. It was horrible, and that's when he said, 'You know what, there's a person you need to talk to,' " Hutchinson said.
Her father's doctor proceeded to escort her down the hallway to meet the endocrinologist.
Hutchinson said that appointment, at Lenox Hill Hospital in New York, changed her life. Tears filled her eyes and her voice cracked with emotion at the recollection.
"I'm starting to tear (up) a little bit only because that was the first time I saw somebody who saw me on the inside -- me as a person, not my weight," she said. "That was really my first feeling of hope that my life could be something different, that it actually could turn around and be good again."
On the spot, Pena enrolled Hutchinson, a Bronx resident, in the hospital's weight loss program, called Core4. The program employs the unconventional approach of "mindful eating" to counsel participants.
Before the program, Hutchinson said, she'd never heard of mindful eating.
Now, after she learned more about the practice and applied it to her eating habits over the past six months, it has led to a healthier lifestyle.
In a meeting with her nutritionist on Monday, Hutchinson said, she learned that she now weighs 198 pounds. About six months ago, she weighed 260 pounds.
"I hugged her," Hutchinson said of her nutritionist. "I was in tears."
'Over time, eating can become habitual'
Mindful eating is rooted in the idea of mindfulness, an ancient practice that promotes being aware of your thoughts, feelings, bodily sensations and environment instead of living your life on autopilot.
When applied to diet, mindful eating involves focusing on chewing your food, taking your time, being in tune with when your body signals that you are hungry or full, and being aware of how your food appears, smells and tastes.
"Over time, eating can become habitual. ... We don't even check in to see if we're hungry. It's, 'Oh, I'm watching a movie? It's time for popcorn,' " said Dr. Judson Brewer, an associate professor at the University of Massachusetts Medical School and director of research for the university's Center for Mindfulness.
"There's that push and pull that comes with life. We either eat mindlessly, or we eat based on cravings," he said. "Mindfulness comes in, in this way, where we can notice that push and pull. We notice the cravings, the habits ... and mindfulness helps us be with those feelings to say, 'do that' or 'don't do that.' "
Some experts point to Horace Fletcher's claims in the late 1800s and early 1900s as evidence of when some mindful eating concepts emerged in the United States.