Surfing, falconry and other summer vacation pursuits
6/27/2017, 1:31 p.m.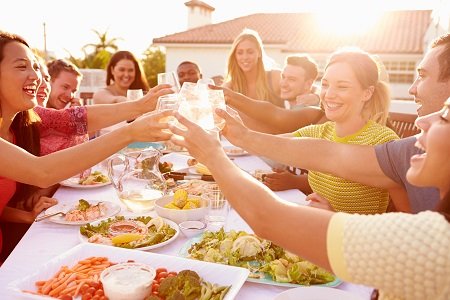 (CNN) — Catch a wave off the California coast, pedal a mountain bike in Utah's red rock canyons or try your gloved hand at falconry in Vermont.
The kids may be out of school, but the summer season presents a range of adult vacations so fun they won't feel like learning. Plenty of fresh air, luminous light and Instagram-worthy scenery are part of these hands-on holidays.
If you're looking to recharge your mind, body and spirit, the following 10 vacations may remind you just how enjoyable exploring a new skill can be.
Surf's up in San Diego
For those who dream of hanging 10, this five-day Southern California coastal plunge is straight out of a Beach Boys song.
Endless Summer Surf Camp instructors guide beginners through surf basics and help seasoned surfers take it to the next level. Choose one of three adults-only summer sessions or consider joining an all-ages group, popular with teenagers and families.
The owner's Brazilian mother-in-law prepares bountiful meals with a dash of Latin flavor, so hearty appetites are welcomed.
When the sun sets, sleep deep in glamping-style tents at San Onofre Bluffs State Campground. Relax with your surf buddies under the stars and dream about spending another day looking for the perfect break.
Foraging in Asheville, North Carolina
While Asheville is a hotbed of locally sourced food, guests can take it one step further and go foraging in uncultivated fields and forests, searching for wild edibles.
Book an experience with No Taste Like Home and join a small group in search of mushrooms, greens, shoots, fruit, nuts, seeds and roots. The region is the richest temperate ecosystem in the Western Hemisphere.
When the three-hour guided walk is finished, guests bring the gathered goods to one of six local restaurants who partner with the class. Order lunch or dinner off the menu and the chef will create a free forage-to-table appetizer from the found ingredients.
No Taste Like Home also works with several Asheville hotels, including the Omni Grove Park Inn. The Omni offers a 90-minute abbreviated version of the foraging experience right on its sprawling grounds.
Forest bathing in Sedona
Listen to the wind rustle through the trees and water flow through Oak Creek. Soak in the red rock formations and green vegetation as you walk slowly and mindfully, taking the time to experience the elements of the natural world.
This is forest bathing at L'Auberge de Sedona hotel in Arizona. The practice is rooted in the idea that slowing down, quieting the mind and appreciating Mother Earth in a calm manner benefits physical and emotional wellness.
A certified forest therapy guide -- yes, that's a thing -- leads guests through the practice of deeper awareness through sensory observation. The aim is to restore and refresh. With no cell phones, accessories or gadgets, it's a brief disconnect from the modern world.
After the hour is over, guests may extend the experience by remaining outdoors on the tranquil grounds. Or they may retreat to their room, where the neutral color palette and uncluttered décor extends the experience.