Baltimore Times hosts 'ACCESS TO CAPITAL' Forum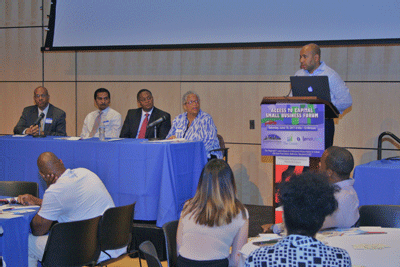 Harbor Bank, MECU, Wells Fargo and Meridian Management Group were among the local bankers and financial institutions to join a Baltimore Times-sponsored event that instructed dozens of individuals on how to get on the path to success for raising capital for their businesses. MCE (Maryland Capital Enterprises, Inc.); kiva: Small Business Resource Center; and Minority Business Development Agency were other partners.
The forum, titled "Access to Capital" featured micro-financers, specialty lenders, banks and credit unions whose goal was to help educate local entrepreneurs. Two entrepreneurs, Aaron Jones and Tammira Lucas were also present to talk about their experiences as business owners.
"Education is the key to building wealth and building successful business leads to the creation of generational wealth," said Everett Sands, the CEO and president of Lendistry, a small business lender in operations for nearly 20 years.
"I think understanding that there is a path to successful financing is key," Sands said.
Sands partnered with the nonprofit Center for Strategic Economic Studies and Institutional Development, Inc. and the Baltimore Times to host the workshop at the Reginald F. Lewis Museum of Maryland African History & Culture on June 10, 2017.
The event underscored the need for financial education, said Joy Bramble, publisher of The Baltimore Times.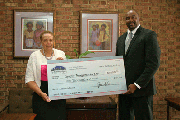 "Without adequate financial knowledge, businesses and individuals could face some serious obstacles. We don't want to wait until we have some sort of financial crisis before trying to obtain a financial education and the 'Access to Capital' event was designed to do just that," Bramble said.
As a community organization and Baltimore's Credit Union, it's MECU's responsibility to participate in such events, said Sheila Lawson, vice president of business services for MECU.
"Entrepreneurs need to understand what financial institutions require with commercial loan requests and why this information is necessary. The knowledge of what's required will generally help facilitate a better application process," Lawson said. She added: "I think the event was very well received from both the panelists and the attendees."
A panel of lenders comprised of industry experts from a wide spectrum of financial institutions responded to loan and financial related queries.
"I participated to help businesses know what they can do to be successful," said Calvin Young, a vice president at the Harbor Bank of Maryland. "Understanding how to get capital is a cornerstone of business growth," Young said.
There were lots of good questions from both new and seasoned business owners, said David R. White, of Wells Fargo Business Bank.
"It's always great to share helpful tips with business owners on the best ways to access capital as well as the different financing options available depending on where they are in the business life cycle," White said.
Anthony Shoats of Xquisite Transportation LLC and Cara Paige of Cover Page Creative, were winners of a $1,000 grant to use as a business advancement resource.
Shoats said he realized that the cloud that most have hanging over them when it comes to getting financing has been daunting.
"I walked away from there feeling something had been lifted off me," Shoats said.