Fireworks & Festivities
First Sunday Arts Festival is the place to start celebrating America's Birthday
6/30/2017, 6 a.m.
continued — Keeping with tradition, "Stars and Stripes Forever" will play at 9:15pm, signaling the countdown to the fireworks display, high above Annapolis Harbor. During the fireworks spectacular, WRNR will play a patriotic montage of music to accompany the dazzling fireworks display.
"When we heard, the Naval Academy Band, who traditionally performs, was unable to play this year, we knew we had to step up and commit the full musical resources of WRNR. The show must, and will go on" remarked 103.1 FM WRNR owner Steve Kingston.
Register at Red Hot and Blue of Annapolis (200 Old Mill Bottom Road) for a chance to win seats aboard the WRNR 30 Foot High Skybox, the best place to view the fireworks display. No purchase necessary.
If you're unable to attend the party, tune into to WRNR at 103.1 FM, online at WRNR.COM, or download the "Tune In" app, to hear all the festivities at the City of Annapolis 4th of July Celebration.
For more information, please contact Robert Cardoni at 410-626-0103 or via email at Robert.cardoni@wrnr.com.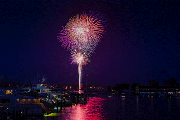 Annapolis Independence Day Celebration and Fireworks
July 4, 2017 6:30pm
Annapolis, Maryland 21041
The Parade will begin at 6:30 p.m. and will travel along West Street, around Church Circle, and down Main Street to the City Dock.A 4th of July Fireworks display will be at 9:15 p.m. from a barge in Annapolis Harbor.
Baltimore's Ports America Chesapeake Fourth of July Celebration July 4, 2017 7pm-10 pm
Inner Harbor
Baltimore, Maryland 21202
Commemorate Independence Day with live music and celebratory fireworks in the heart of downtown Baltimore. The event will showcase music by U.S. Navy Band starting at 7:00 p.m. at the Inner Harbor Amphitheater at Pratt and Light Streets. At 9:30 p.m., the multicolored fireworks show, choreographed to patriotic and contemporary music, can be viewed from several locations downtown and in the surrounding neighborhoods of Federal Hill, Fell's Point, Canton and Harbor East. In case of severe weather, the fireworks show would take place July 5, 2017. 410-752-8632.
Catonsville's Independence Day Celebration July 4, 2017
Catonsville, Maryland 21043
This all-day, fun-filled Catonsville tradition features children's games, races, and concerts starting at 9:30 a.m. The 69th Annual Grand Parade is so popular, residents often set out chairs in advance along the route on Frederick Road. The Parade steps off at 3:00 p.m. Called "The best fireworks display in the region" begin at 9:15 p.m. at Catonsville High School. Fireworks Rain Date is July 8, 2017. 443-840-9574
Independence Day Fireworks Cruise July 4, 2017 7:30-11pm Spirit of Baltimore (ship) Inner Harbor Baltimore, Maryland 21202 Baltimore City
Enjoy front-row Fireworks, Baltimore's ultimate July 4th experience! Splash aboard Spirit Cruises and get front-row seats to Baltimore's spectacular fireworks show. The Inner Harbor has never looked so stunning beneath the illuminated night sky. Celebrate America's birthday this 4th of July with a premium bar package, festive buffets and interactive DJ Entertainment. There's no better place to celebrate than out on the water with Spirit! 410-727-3113 800-695-BOAT