Exciting Line Up of Panels and Workshops for Annapolis Film Festival
3/29/2017, 6 a.m.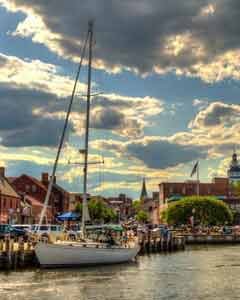 ANNAPOLIS, Md. — An exciting line up of panels and workshops to appeal to both the general public and the industry technician is scheduled for the Annapolis Film Festival, March 30 to April 2. These events are being held in a number of locations on different days and times so please check the website at www.annapolisfilmfestival.com for information about times and purchasing tickets.
HOW TO MAKE A GREAT SHORT FILM
FRIDAY, 3/31 | O'CALLAGHAN | 10:30 AM–11:30 AM
There are more reasons than ever to make a short film --- a calling card for an aspiring director, a proof-of-concept exercise for a creative team, an opportunity to build a team of like-minded creatives --- but how can you build a foolproof story structure and immersive production values? Upon what merits will festivals, distributors, and investors appraise your film? What's that critical step that takes a good short film to a great one? Find out more here.
MODERATOR: Mimi Edmunds | Producer, Former CBS Producer, Former Director of the Maine Workshops and Professor Emeritus at Emerson College
PANELISTS:
John Fortson | Director, RATED
Laura Seay | Director, SPEAK
Reed Van Dyk | Director, DEKALB ELEMENTARY
RELEASING YOUR FILM: DIGITAL DISTRIBUTION
FRIDAY, 3/31 | O'CALLAGHAN | 12:00 PM–1:00 PM
There's no one model for the trajectory of a feature film's release. In this age of Netflix , YouTube, and Vimeo, what's the best marketing strategy to ensure a successful release? How can enterprising filmmakers get the edge on digital distribution by capitalizing on social media and search engine optimization? Find the best release strategy and marketing plans and why audience awards matter to distributors.
MODERATOR: EMIL GALLINA, Producer, Former Executive Producer at Discovery, WNAV Radio Host
PANELISTS:
Phil Hudson | Rook SEO
Missy Laney | Film Releasing Strategist
Zach Reeder | Electric Distribution, Domestic Distribution
THE NEW DOCUMENTARIANS
FRIDAY, 3/31 | O'CALLAGHAN | 1:30 PM–2:30 PM
Since the turn of the new millennium, the documentary has made a spectacular rise as an entertainment medium. As such, the very concept of what a documentary is, what it means, and what it promises to a viewing audience remains in constant flux. Cinematic storytelling techniques are being seen more and more in journalism, short films, and other media. How does this impact how the story is received? What gear and techniques are used to make the story vibrant, visual and compelling?
MODERATOR: MIMI EDMUNDS, Producer, Former CBS Producer, Former Director of the Maine Workshops and Professor Emeritus at Emerson College
MODERATOR:
Ashley Bloom Kenny | Senior Producer, The Atlantic
PANELISTS:
James Burns | Filmmaker, VICE Media
Dana Flor | Co-Director, CHECK IT
Hermann Vaske | Director, DENNIS HOPPER: UNEASY RIDER
Paul Wolansky | Producer, BREAKING POINT: THE BATTLE FOR DEMOCRACY IN UKRAINE
THE TRUTH ABOUT PRODUCERS & DIRECTORS
SATURDAY, 4/1 | ST. JOHN'S CONVERSATION ROOM| 10:30 AM–11:30 AM
As long as there has been a motion picture industry, there have been producers and directors collaborating --- and clashing. When artistic vision meets the hard-and-fast reality of production, sparks are bound to fly. What defines their roles, their challenges and desires? This dance is often a love-hate relationship held together by money, passion, and mutual respect. When it works, it's movie magic.