Eat like a pro: Eight foods to help improve your athletic performance
5/4/2017, 6 a.m.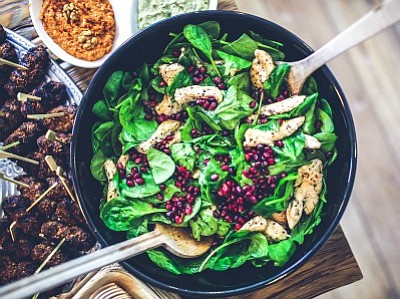 (CNN) — AS Monaco has been the surprise package of Europe this season, blowing away its rivals to reach the Champions League semifinals and sitting on the brink of a first Ligue 1 title in 17 years.
But behind the training sessions, detailed scouting reports and in-depth tactical analysis, there's something going on in the kitchen that's designed to help Monaco get the better of its opponents.
Monaco's doctor Philippe Kuentz, nutritionist Juan Morillas and team dietitian Tara Ostrowe are tasked with choosing the right foods at the right time to help maximize the physical potential of each footballer at the club.
And below Ostrowe names the eight foods she gives to her players, so you too can eat like a pro.
Quinoa
In recent years, quinoa has become a must eat grain for foodies. But far from just making you look cool, it also has plenty of benefits.
"It's a very powerful wholegrain and the main fuel for the players' performance," Ostrowe tells CNN.
"It's also packed with lots of vitamins, nutrients and protein, which will also sustain the energy throughout the game."
Benefits in brief
• Excellent fuel source
• Good source of folate, thiamin and iron
• 16% of daily value of protein in one serving
Kale
While just the thought of a kale smoothie is enough to make most people shudder, this green has become popular among chefs and in households for its versatility, taste and wide range of physical benefits.
"This is what I consider the superfood vegetable," Ostrowe explains.
"It's packed with lots of vitamin C, calcium and vitamin K, all of which are perfect for recovery and providing good nutrition."
Benefits in brief
• Great source of vitamin A, C and K
• Good source of calcium and manganese
• Excellent for workout recovery
Beetroot juice
It may be one of the less well-known health foods on Ostrowe's list, but beetroot and beetroot juice are incredibly beneficial to those participating in cardiovascular exercise.
"We try to give it to the players before a match, and for a few days before -- it builds up to help with oxygen capacity," Ostrowe says. "It's also packed with lots of vitamins and antioxidants."
Benefits in brief
• Very effective at increasing oxygen capacity for exercise
• Improves blood flow and circulation
• Contains anti-inflammatory factors
Chia seeds
Good things come in small packages, as they say, and that is certainly the case for chia seeds.
They may be tiny but these seeds pack a mighty amount of health benefits and can be used on anything from cereal to salad.
"As you can see, they're very small but they pack lots of good nutrition," Ostrowe says. "The players will put that on all their food. We have it at every meal.
"They put it on their breakfast and it helps with energy for training. Then we also have it for lunch and at dinner, which helps with bringing down inflammation."
Benefits in brief
• Incredible source of omega-3 fatty acids