The McKean Miracle: New park opens in Easterwood Neighborhood
Deborah Bailey | 5/5/2017, 6 a.m. | Updated on 5/4/2017, 4:40 p.m.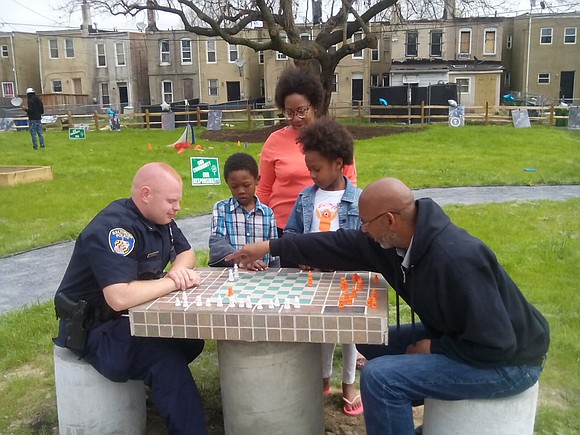 The Easterwood/Sandtown Park and Playground located at 1500 N. McKean Avenue was created after the demolition of buildings in fall 2016 through Maryland's Project C.O.R.E. Initiative. (Creating Opportunities for Renewal and Enterprise) is a multi-year partnership between the State of Maryland and the City of Baltimore supporting blight removal and redevelopment in Baltimore City. (Above) Robin Ayele, her daughter Nadia (right) and her seven-year-old son David (left) look on as a police officer from the 7th District engages Michael Cooper (seated right) in a game of chess on Saturday, April 15, 2017.