USDA shifts Obama-era school lunch guidelines
5/8/2017, 6 a.m.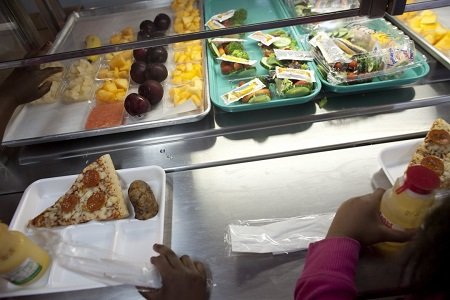 (CNN) — The Trump administration is scaling back school meal nutritional requirements set by the Obama White House in 2012.
Secretary of Agriculture Sonny Perdue signed a proclamation Monday (PDF) that relaxes standards for the upcoming school year in three key areas: whole grains, salt and milk.
Specifically, states will be able to grant exemptions to schools experiencing hardship in meeting the 100% whole-grain-rich standard although, even with the changes, at least half of the grains offered in schools must be whole grains. Schools will no longer need to hit the strictest target (PDF) for lowering sodium in foods offered to students. And meal programs will be able to serve students 1% flavored milk instead of fat-free flavored milk.
What kids are willing to eat
The National School Lunch Program and the School Breakfast Program are federally assisted meal programs that provide nutritionally balanced lunches for children each school day. Both programs are administered by the Department of Agriculture, though local schools set the prices for meals, offering a sliding scale to students based on family income, as required by federal regulations.
In 2012, under the Healthy Hunger-Free Kids Act (PDF), former Agriculture Secretary Tom Vilsack and first lady Michelle Obama established new standards to raise the overall nutritional requirements for school meals. It's not the only program championed by Michelle Obama that saw changes this week: The Trump administration also discontinued Let Girls Learn, an education initiative for teen girls in developing countries that started in 2015.
Perdue said in a news release that Monday's proclamation is the result of "years of feedback from students, schools, and food service experts about the challenges they are facing in meeting the final regulations for school meals." According to USDA figures, school food requirements cost school districts and states an additional $1.22 billion in fiscal year 2015, but most states reported a decrease in student participation in the school lunch program.
A 2013-14 school year report (PDF) sponsored by the USDA found that over 60% of school food authorities observed more waste in terms of salad/raw vegetables and cooked vegetables after implementation of the updated standards.
Perdue said that when kids don't eat, they don't get the nutrition they need, and this undermines "the intent of the program."
"A perfect example is in the South, where the schools want to serve grits," said Perdue, who worked as a veterinarian before serving as a Georgia state senator and governor. "But the whole grain variety has little black flakes in it, and the kids won't eat it. The school is compliant with the whole grain requirements, but no one is eating the grits."
Marlene Schwartz, director of the Rudd Center for Food Policy and Obesity at the University of Connecticut, said the argument that food is ending up in the trash "is not supported by the research. There have been studies, ours included, that have found plate waste has not increased."
"What I've studied is whether or not children are eating the lunches, and we found that they are," Schwartz said. "I think what people don't understand about plate waste is if kids are eating, let's say 70% of the fruits and vegetables that they're taking, that means 30% of those are getting thrown away."