USDA shifts Obama-era school lunch guidelines
5/8/2017, 6 a.m.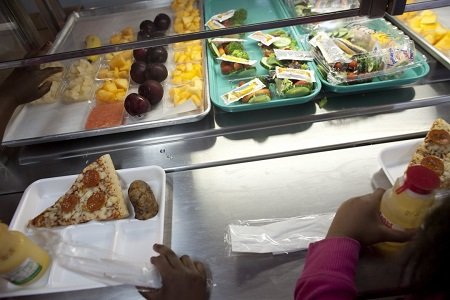 continued — Naturally, the volume of waste goes up when fruits and vegetables are added to every plate, she says, but consumption of this important food group has increased as well.
Perdue's proclamation, Schwartz believes, is "slowing down the progress but not completely undoing what's been done."
"My impression has been that the food companies and the school service professionals have been working extremely hard for the last five years to try and improve things and meet these standards," she said.
"The reformulations have been done, is my point. The companies that sell pizza crusts and buns or other grain products to schools, many of them have already reformulated, so they're whole-grain-rich."
Many changes are likely to continue. Although they might allow flexibility for local school districts, Perdue's adjustments to the nutritional requirements also take pressure off the food industry, Schwartz suggests.
"There's not that much that individual food service directors can do to change the sodium in the foods they serve, because they're getting them from companies," she said. "So I feel like this is more of a gift to companies to give them more time to make those changes."
The impact on children's diets
Schwartz believes the impact on an individual child's diet will be small and amount to a slightly higher intake of saturated fat due to the higher fat content in flavored milk.
"But it's not a big jump. It's pretty small," she said. With regard to whole grains and sodium, she believes any gains made in the past will hold with no further improvements made.
"If this really helps, you know, food service directors have more flexibility and stay in the program and continue working towards improving the quality of the food they're serving, then that's OK with me," Schwartz said.
Dr. Tanya Altmann, a California pediatrician and spokeswoman for the American Academy of Pediatrics, said children get a third to half of their daily calories at school.
"So school lunch programs are critical for helping a child reach their nutrient goals throughout the day," she wrote in an email. "I'm fine with 1-percent (fat), flavored milk since all milk has important protein, calcium and (vitamin) D that growing kids need."
When it comes to loosening standards that regulate salt, which "has no nutrition benefit and can contribute to unhealthy diet as a whole," and those regulating grains, Altmann is a little less "fine."
"We already know that kids don't eat enough whole grains," she said. "Whole grains are important for growth and development, and I think that all of the grains kids eat should be whole grains whenever possible."
A new USDA report on the nutritional quality, cost and acceptability of school meals as well as student diets will become available by 2018.
"It will be important to assess how much difference these changes make," Schwartz said. "It could have been a whole lot worse from a nutrition standpoint."