Local participant in JHU Innovation Lab wins $25k prize
Deborah Bailey | 5/12/2017, 6 a.m.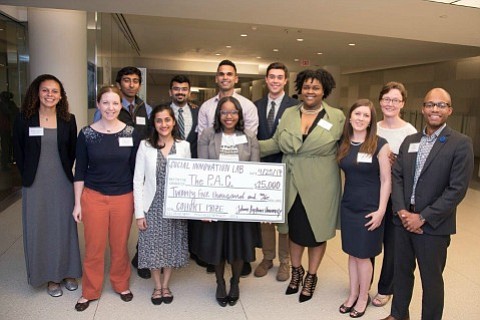 BALTIMORE — Shantell Roberts was awarded $25,000 from Johns Hopkins University Innovation Labs to advance her concept to keep babies safe. Roberts' Portable Alternative Crib won the accolades of her peers and will soon be on its way into homes in Baltimore and surrounding counties.
Roberts' Portable Alternative Crib is based on a "baby box" concept, which originated in Finland in the 1930s. Today, it is a small, portable box issued by the government filled with newborn baby items and a mattress on the bottom to ensure each child in Finland gets an equal start. The Baby Box has become a rite of passage in Finnish culture. It is used as a crib for traveling mothers or for who don't own one.
"I in no way imagined that I would have been selected as the ultimate winner. It's still settling in," said Roberts.
In fact, Roberts had already settled on finding a way to distribute her Portable Alternative Crib to mothers across Baltimore when she entered the Johns Hopkins Social Innovation Lab, six months ago. She had the passion and the drive to save the lives of babies in Baltimore and beyond, but she just needed the opportunity.
In 2011, while Roberts was working at Morgan State University's Student Affairs Office nurturing the dreams of college students, she suffered a tragic loss. Her one-year-old daughter Tyler died from pneumonia. Although devastated, Roberts lived through the experience with the resolve to do what she could to ensure other mothers never go through the experience of losing an infant suddenly.
Roberts turned grief into determination and joined the Board of the Center for Infant Child Loss. But Roberts was not done yet. A friend saw a listing for a job that she thought was perfect for Roberts with the B'more for Babies Healthy Babies Initiative. Roberts successfully interviewed and joined the staff of B'more for Healthy Babies as the Safe Sleep coordinator. Once again, Roberts wasn't done yet.
Roberts attended a boot camp sponsored by the Social Innovation Lab in September 2016. She thought about the Baby Box presentation and decided to submit her application to the Hopkins Social Innovation Lab based on the Finnish box for babies that now captivated her. So, she decided to take a shot. Roberts was invited back to give a presentation and was ultimately invited to transform her vision of ending Sudden Infant Death Syndrome by distributing Baby Boxes to every mother who needed one. For the next six months, Roberts worked closely with a cohort of nine other social entrepreneurs from Hopkins and the Baltimore area and Lab Director, Darius Graham.
"Shantell's work [with] the Portable Alternative Crib is inspiring, and a great example of what we strive to do at the Social Innovation Lab— identify passionate people with personal and professional experience with a pressing social issue, and help them transform that passion and experience into a viable, impactful venture," Graham said.
After conducting interviews with individuals and participating in focus groups, Roberts decided to change the name of the Baby Box to the Portable Alternative Crib and received the feedback and resources she needed from the Innovation Lab to start "Touching Young Lives," the not-for profit organization that will benefit from sales of the Portable Alternative Crib. Roberts still wasn't done yet.