Are you getting the vaccines you need before going abroad?
5/18/2017, 6 a.m.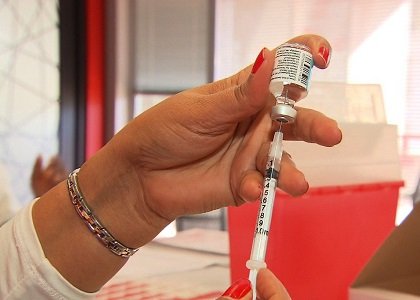 (CNN) — There's cholera, which can give you explosive diarrhea, vomiting and leg cramps. Then there's measles, which can give you a high fever, cough, runny nose and rash.
Don't forget yellow fever, which can come with chills, headache and nausea.
Those are just a few of the illnesses that pose a risk to international travelers. Yet many jet-setters might overlook getting vaccinated for them before touring the world.
Slightly more than half of international travelers in the United States who were eligible to receive the measles, mumps, rubella (MMR) vaccine before traveling did not get vaccinated between 2009 and 2014, according to a new study that published in the journal Annals of Internal Medicine on Monday.
Therefore, those travelers were probably at risk for being infected with measles while abroad, said Dr. Emily Hyle, an instructor in medicine at Massachusetts General Hospital and lead author of the paper.
"Pre-travel vaccinations are important because diseases that aren't found in the United States, such as typhoid or yellow fever, may be a risk in other countries. These diseases can be severe or even fatal," said Dr. Phyllis Kozarsky, an expert travel health consultant with the US Centers for Disease Control and Prevention's Travelers' Health Branch and a professor at Emory University. She was not involved in the new study.
"Even diseases that do occur in the United States, such as measles or hepatitis A, are often more common in other countries," she said. "Several countries in Europe are currently experiencing measles outbreaks, which emphasizes how important it is for travelers to be up-to-date on routine vaccines as well as get travel-related vaccines."
Measles was declared eliminated from the US in 2000 but remains common in many other parts of the world, such as Western Europe, where the measles virus causes death in at least one in 5,000 cases. As many as one in 100 die from measles in the poorest regions of the world, according to the University of Oxford in England.
This year, the CDC has reported outbreaks of measles in Italy, Germany, Belgium, Guinea and Romania. Also, the measles virus is found regularly in Indonesia.
Measles, in particular, is a highly infectious illness that can spread through the air when an infected person coughs or sneezes, according to the National Health Service in England.
Yet, every year, immunization prevents between 2 million and 3 million deaths around the world in all age groups from diphtheria, tetanus, whooping cough and measles, according to the World Health Organization.
Measles vaccination resulted in a 79% drop in measles deaths between 2000 and 2015 worldwide, the agency said.
In 2015, about 85% of the world's children received one dose of measles vaccine by their first birthday, according to the WHO.
The vaccine is typically given to children in two doses: at 12 months and at 4 to 6 years old. For adults, officials recommend vaccination if you didn't receive it as a child or haven't had all three diseases.