Beyond Bars celebrates 25 years of uniting incarcerated mothers with their daughters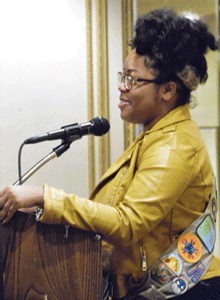 While flipping through the Girl Scouts of Central Maryland (GSCM) Beyond Bars 25th Anniversary program booklet at the luncheon at La Fontaine Bleue on November 4, 2017, the alarming statistics sprawled across two pages commanded attention. Two of which read: "Women, compared to men, are the fastest growing group of prisoners in the United States," and "68 percent of incarcerated women have at least one child under the age of 18 left behind when they enter prison."
For 25 years, the Girl Scouts Beyond Bars program has worked to lessen the impact of separation that occurs between mothers and daughters who must endure heart-wrenching situations like these.
The Beyond the Bars program has provided opportunities for over 400 girls to bond with their mothers through bi-monthly troop meetings at the Maryland Correctional Institution for Women (MCIW) in Jessup, Maryland, as well as in other states.
"At this point, I think that it is important to note that the Girl Scouts Beyond Bars Program began in response to a Baltimore City Circuit Court Judge's concern for the mothers she was sentencing, and for their children. In 1992, Judge Carol E. Smith contacted the U.S. Department of Justice about [the concerns] she had. The Justice Department and Judge Smith went to the GSCM with a plan, with a suggestion of holding Girl Scout meetings at the prison. Fortunately, the Justice Department [and] the GSCM agreed. The Justice Department provided funding and a program was born," said senior Baltimore City Circuit Court System Judge Marcella Holland, who has served as co-chair of the Beyond Bars Advisory Committee for 19 years. "With federal funding the program grew nationally, and was at one time offered by 30 states in this country. When federal funding ended, many counties had to drop the program, and today currently the program is only in 15 states, but here in Maryland we are very fortunate. Where it all began, the Beyond Bars Program has operated continuously for the past 25 years, with the help of private foundations and donations, and the ongoing support from the very beginning of a number of women judges."
Kemba Smith Praidia, the keynote speaker at the GSCM celebration and author of "Poster Child: The Kemba Smith Story" was a former federal prison inmate. Smith Praidia spoke about her experience giving birth while she was incarcerated.
Smith Praidia explained that she was student at Hampton University who got mixed up with her then boyfriend's drug dealing activites.
She was sentenced to 24.5 years in federal prison for a limited role in the drug ring. She was pardoned by Former President Bill Clinton in 2000.
Now an activist, author, wife and motivational speaker, Smith shares her cautionary tale, while imparting hope whenever she can.
"Your parents, your mother— they are human. We make mistakes, but it's very important that I hope that in this program, that you have learned about the act of forgiveness," Smith Praidia said to the Girl Scouts. "I want you to know that your moms are capable of coming out of prison and doing well, and being successful. But right now, your moms are being very strong, and I am sure that they love and pray for you every night."