Beyond Bars celebrates 25 years of uniting incarcerated mothers with their daughters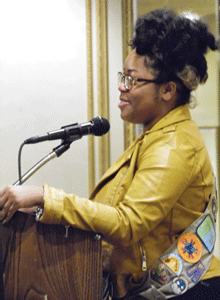 Justice Mears, 19, symbolizes the hope that youth graduates of the GSCM's Beyond Bars program will go on to accomplish great things in life.
Mears is the first student from the GSCM Beyond Bars program to attend college. She is currently a biology major at the University of Maryland Eastern Shore.
Mears serves as an example for fellow Girl Scouts like Kaniya Collins, 14, that having a bright future is possible. She reminded the Girl Scouts that having an incarcerated mother doesn't have to limit what a girl can accomplish in life.
"I love being in the Girls Scouts, because before I started Girl Scouts, I didn't see my mother as much. And when she was home with me, my mother was like my best friend. Girl Scouts made us become closer— we catch up with each other. It just made everything better because I get more time to be with her. I get to hug her and kiss her, even though I [am] sad sometimes, when I go and see her, it makes me happy," Mears explained. "I felt like I didn't have nobody, and then when you come around people, your support system is everything. I feel so much better about myself."
Mears was awarded two surprise scholarships on the festive afternoon. She received $250 from ScholarCHIPS, and $1,000 was provided the GSCM to their Beyond Bars program graduate.
For more information about the Girl Scouts of Central Maryland Beyond Bars program, visit http://www.gscm.org/en/support-us/BeyondBars.html.