Bill Gates' newest mission: Curing Alzheimer's
Dr. Sanjay Gupta, Chief Medical Correspondent Video by Nadia Kounang, CNN | 11/13/2017, 11:21 a.m.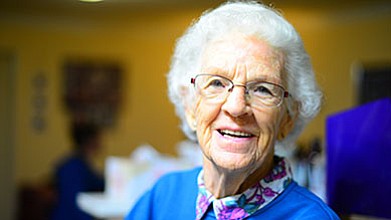 It's one of the holy grails of science: a cure for Alzheimer's. Currently, there is no treatment to stop the disease, let alone slow its progression. And billionaire Bill Gates thinks he will change that.
"I believe there is a solution," he told me without hesitation.
"Any type of treatment would be a huge advance from where we are today," he said, but "the long-term goal has got to be cure."
I had the chance to sit down with Gates recently to talk about his newest initiative. He sat in front of our cameras exclusively to tell me how he hopes to find a cure to a disease that now steals the memories and other cognitive functions of 47 million people around the world.
For Gates, the fight is personal. He is investing $50 million of his own money into the Dementia Discovery Fund, a private-public research partnership focused on some of the more novel ideas about what drives the brain disease, such as looking at a brain cell's immune system. It's the first time Gates has made a commitment to a noncommunicable disease. The work done through his foundation has focused primarily on infectious diseases such as HIV, malaria and polio.
I have interviewed Gates many times over the years, in countries around the world. He was more engaged on this topic of Alzheimer's than I've ever seen before.
Today, Alzheimer's disease is the most common form of dementia and the sixth leading cause of death in the United States, where a new case is diagnosed every 66 seconds. More than 5 million Americans live with the disease, at a cost of $259 billion a year. Without any treatment, those numbers are projected to explode to 16 million Americans with the disease, at a cost of over $1 trillion a year, by 2050.
"The growing burden is pretty unbelievable," the tech guru-turned-philanthropist told me. It's something he knows personally. "Several of the men in my family have this disease. And so, you know, I've seen how tough it is. That's not my sole motivation, but it certainly drew me in."
When he said, "I'm a huge believer in that science and innovation are going to solve most of the tough problems over time," I could feel his optimism.
He told me he has spent the past year investigating and talking to scientists, trying to determine how best to help move the needle toward treatment of the disease itself rather than just the symptoms.
A disease turns 100
It has been more than a century since the disease was identified by German physician Dr. Alois Alzheimer. He first wrote about it in 1906, describing the case of a woman named "Auguste D." Alzheimer called it "a peculiar disease," marked by significant memory loss, severe paranoia and other psychological changes.
But it wasn't until Alzheimer performed an autopsy on her brain that the case became even more striking. He found that her brain had shrunk significantly, and there were unusual deposits in and around the nerve cells.