Barber, Salon Owners Praise Kaiser's Mobile Health Unit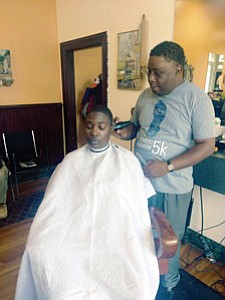 If Brenda M. Fletcher had any concerns about the viability of the ever-popular Kaiser Permanente Mobile Health Van parked a few blocks from her Short Cutz Hair Salon in West Baltimore, one of her clients arrived with news that could be categorized as a game-changer.
"One of my clients had a check-up in December and did a test in the van which allowed her to know her cholesterol and diabetes numbers and get her blood pressure checked," Fletcher recalled. "The doctor told her she had a mini-stroke that she wasn't aware of. She was referred to the emergency room and that probably saved her life."
Saving and improving lives are among the primary reasons that Kaiser of the Mid-Atlantic States decided to host a mobile health van in underserved communities like West Baltimore.
Fletcher's business counts among the four local barber and beauty shops that have partnered with Kaiser to offer up and encourage free flu immunizations and a wide range of health screenings and wellness services to residents, regardless of whether they have insurance or are Kaiser members.
The concerted effort affords community members a closer look at Kaiser's commitment to the area, company officials said.
"It's been real effective and it tackles the issues in the community where you find a health desert, high poverty, low education and a low graduation rate," said Troy Staton, the owner of New Beginnings Barbershop, the first of the neighborhood establishments to sign on to the program when it began almost one year ago.
Staton says he wants to address issues pertinent to the community and health stands above most.
"We can ask customers about the last time they had their blood glucose level checked, or if they have health insurance and we can direct them to the mobile unit," he said.
Kathy Eccles has been a customer of Staton's for years and she says the mobile unit encouraged her to get her first flu shot last year.
"It's good for the neighborhood and I didn't have to go anywhere, yet you're dealing with real nurses and doctors," Eccles said. "This allows for everyone in the community, especially the men who usually don't get checked, to do what they haven't done."
Janelle Holt, the owner of nearby Vanity Salon says that the Kaiser program has more than paid dividends.
"It's a wonderful idea to reach out to the community," Holt said. "My clients don't mind going to the mobile unit and talking with a doctor. In the past they were hesitant but this is so important and it has brought my clients closer to medical professionals."
Marcus Howard, owner of Illusions Barber Shop, agreed.
"Being a part of this has brought everyone closer in the community and more people now can go to the unit and get their health checked," Howard said.
For nearly a year, Kaiser has operated the mobile health van, staffed with a doctor, nurse and lab tech in a setup that is not unlike a regular medical office. Health professionals in the van provide health screenings, flu shots, blood pressure tests, blood sugar screening, HIV tests and other services.