NNPA, Chevrolet Honor 2017 Discover The Unexpected Journalism Fellows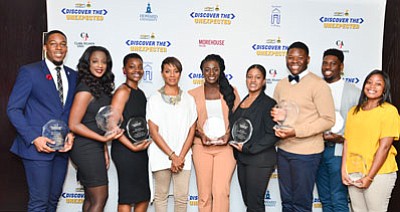 "The people I've connected with not only made me a better woman, but a better journalist," said Marshall, who teamed with Alexa to write several exciting stories including a feature on how "News One Now" host Roland Martin had issued a call to action to address the critical financial state of HBCUs.
"I was surprised when I was accepted into the program," Spencer said. "The truth is, I didn't have much confidence in my journalism, but that changed on 'Day 1,'" she said, noting that Denise Rolark Barnes, the publisher of the
Informer, assigned her a story about a young man who had been accepted to 14 of the 16 colleges he'd applied for.
Washington Informer Editor D. Kevin McNeir pushed Alexa, late into the night, to turn the story in, she said, adding that, "the article was published the next morning on the front page."
The Live on Air Award went to Tiana Hunt and Darrell Williams.
Hunt penned a story in August in The Louisiana Weekly about Williams' dreams of being a creative director, while one of his signature features was about the 2018 Chevrolet Equinox, which he said should be in every neighborhood across the country.
"I've discovered so much of the unexpected with great mentors and great people," Williams said.
Meanwhile, Hunt said the DTU journalism program helped her to see how much hard work and dedication pays off.
"I can honestly say, I 'discovered the unexpected,'" Hunt said.
Ayron Lewallen and Taylor Burris received the Entertainment Reporting Award for their work interviewing celebrities and other high-profile individuals.
"This program taught me that being a journalist is more than interviewing celebrities," said Burris, who wrote a fascinating story for The Carolinian about Nita Key Enrichment, the first black music enrichment company in North Carolina. "I've become stronger than ever and it means that I have to be prepared to advocate for my community."
Lewallen, who blogged for The Carolinian about how his Detroit immersion trip changed his mindset, said he hadalways been big on ideas, but being a DTU fellow was about more than just big ideas.
"I had to dig deep," said Lewallen. "I will continue my path toward becoming a broadcast journalist and I will never forget what everyone in this program has taught me."