New young UMB CURE Scholars receive white coats
Betsy Stein, UMB Senior Media Relations Specialist | 10/20/2017, 6 a.m.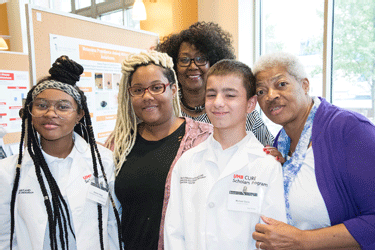 Cummings told the crowd, "Not only do we have to help them to dream, we have to show them the off-ramp so they can get to the dream."
Adrienne Kambouris, a second year MD/PhD student at the University of Maryland School of Medicine, signed up to become a UMB CURE mentor before she even started classes two years ago.
"I'm from Baltimore. I grew up here and know that mentorship is so important," she said. "It can open doors you didn't even know existed."
After the ceremony, the newly minted CURE Scholars attended a mentor mixer where they could meet the mentors and choose who will guide them through their years in the program. This year, 83 new mentors joined the program for a total of 244 CURE mentors.
Charles Armstrong, who is doing research at the School of Pharmacy, heard about the CURE program and signed up to be a mentor for the first time this year.
"I'm originally from Montgomery County but even with my privileged background, I was always dissuaded from science," he said. "As an African American, I want to make sure these students can get the chance."
While the younger scholars were meeting mentors, the second and third year scholars were presenting their Cancer Health Disparities Research Posters to the visitors. The scholars spent the better part of last year researching various types of cancers which they are now experts in. The CURE Scholars Program aims to address two major issues: race- and income-based cancer disparities as well as diversity in the cancer health work force.
Also in attendance at the ceremony were Sanya A. Springfield, PhD, director of the National Cancer Institute's Center to Reduce Cancer Health Disparities; Alison Lin, program director for diversity training at the National Institutes of Health; and UMB CURE Executive Director Robin Saunders, EdD, MS.
"This year's White Coat Ceremony was awesome. To actually witness 80 middle school scholars from West Baltimore with their white coats on, walking proudly and tall knowing they are special and that their futures are bright, made the day even more amazing," Saunders said. "We are all excited to begin a new year filled with inspiring opportunities and unique experiences for our scholars."