A bright light in the Black Press dims: Bernal Smith dies at 45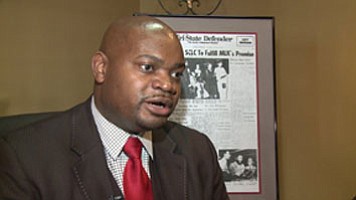 The National Newspaper Publishers Association has lost one of our own this week.
Bernal E. Smith II, president and publisher of the Tri-State Defender and a well-known civic leader in Memphis, Tennessee, died Sunday, October 22, 2017. He was 45.
The newspaper, among the longest running African-American newspapers in the country and among the 211 black-owned publications in the United States noted on its website that Smith was with his family when he was found on Sunday.
"The New Tri-State Defender and its management board is devastated. We learned that Mr. Smith had passed," associate publisher Karanja Ajanaku said in a statement along with Calvin Anderson, the president of Best Media Properties, the Defender's parent company.
Smith's death, caught many of his colleagues off-guard, all of whom expressed shock and sympathy for his family.
"I am personally saddened by the death of our comrade and publisher Bernal Smith," said Dorothy Leavell, the publisher of the Crusader newspapers in Chicago and the national chairman of the NNPA. "He was just elected vice chairman in June and we were looking forward to working closely with him to find solutions to our beloved Black Press."
Smith was a serious and dedicated member of the fourth estate, Leavell added. "We shall miss him so much," she said.
The entire NNPA family of African-American publishers across the nation deeply mourn the passing of Smith, added Dr. Benjamin F. Chavis, the president and CEO of the NNPA.
"As publisher of the New Tri-State Defender in Memphis, Smith represented the journalistic genius of a freedom-fighting publisher who was dedicated to the empowerment of Black America," Chavis said. "Long live the spirit of Bernal Smith!"
Joy Bramble, publisher of the Baltimore Times, says she was simply shocked by the news of Smith's death. "I was just working with him on some things, I just can't believe it," Bramble said.
Rosetta Perry, the publisher of the Tennessee Tribune, called Smith a true friend and a bright light.
"He was a person that when I met him, we just clicked and I was comfortable with him, like I had known him my whole life, and I didn't have to pretend to be anyone or anything," Perry said. "That voice that we loved to hear at our meetings and training sessions is now still. Bernal's place at the Board of Directors meeting will now be vacant but he will live forever in our hearts."
Because of Smith's vision and talents, Karen Carter Richards says she asked him to run for 2nd vice chair of the NNPA this year.
Richards, publisher of the Houston Forward Times, said she wasn't surprised when he won election to the post because of his infectious personality and great abilities.
"I am devastated, Bernal was my friend and he was a visionary who was smart, energetic, kind and definitely the future of NNPA," Richards said. "His innovative ideas made us click. At the request of Bernal, I flew to Memphis last year to attend his Best in Black Awards show. He wanted me to recreate the show in Houston and we were going to partner and bring his great awards show to the city of Houston."