The Unique Art of Larry 'Poncho' Brown, a Baltimore Legend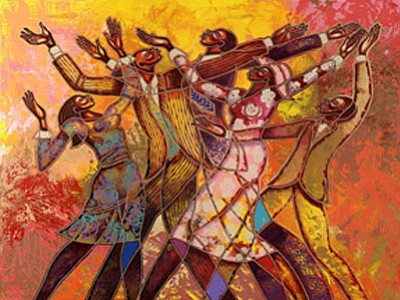 Larry "Poncho" Brown has many accolades that he earned with the stroke of a paintbrush.
A Baltimore native, Brown once earned the distinction of being among the youngest inductees at Carver Vocational Technical High School Hall of Fame, and among the many awards he has received are a 2008 Black Music & Art Award and the 2000 Artist of the Year Award presented by the African-American Visual Art Association.
A world leader in contemporary African-American art who started his first business at 17 as a sign writer, Brown has been selected as a speaker for PNC Bank's artist legal and financial workshop, "Mind Your Business," scheduled for 9:30 a.m.- 3:30p.m. on Saturday, Nov. 4 at the Motor House in Baltimore.
He earned a Bachelor's of Fine Arts degree from the Maryland Institute College of Art and his work, which includes portraits of singer Anita Baker, the late comedian and activist Dick Gregory, and comedian Bill Cosby, has been published nationally in Upscale, Ebony, Essence and Jet Magazines.
Admirers often cite rhythm, movement and unity, as favorite elements of his work, according to his biography. He primarily works in acrylic, although Brown uses a variety of mediums and styles to express his interests in Afrocentric themes, Ancient Egyptology and dance— it's a style that combines past and present art to create a sense of realism, mysticism, and beauty, which gives his art universal appeal.
"I'm a second-generation artist of a teenaged parent who gave up his dream of doing art because when he had me he was 16 or 17-years-old," Brown said about his late father.
"Needless to say, there was no outlet for him, so he ventured into printing (eventually becoming a successful school teacher) and, naturally, a son imitates his father and I think I had the seriousness about art that he wished he had."
As a child, Brown says he always wished that he had a super power. "As an adult," he said, "I realized it was art."
He says his dad chose the nickname "Poncho" because he was a fan of the 1960s show, "Cisco Kid," whose sidekick's name was Poncho.
"I used Poncho to separate from him because you had two artists in the same house," Brown said.
The 1970s television show, "Good Times," proved a turning point for African-American artists because of the famous painting featured in the show's opening and closing, Brown said.
Later, though, he says the "Cosby Show" sparked the revolution of the African-American artist and Cosby himself would later be counted as a customer and a friend of his. But it was comedian and activist Dick Gregory who provided his first major break.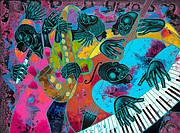 "Dick Gregory was the first person to give me a break. He had me to do the first ad campaign for his Bahamian diet and the first celebrity to endorse my work after I switched from sign painting to illustration," Brown said. "He called me to do commercial work for him, and things moved quickly after."