Businesses donate over $141 million to Harvey relief efforts
Kaya Yurieff | 9/2/2017, 6 a.m.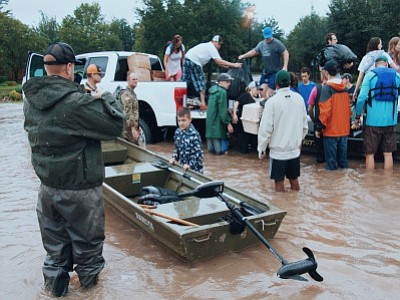 Corporate giants are making big contributions to disaster relief organizations to help victims of Tropical Storm Harvey.
The storm is expected to leave behind billions of dollars in damages.
Companies have pledged $141.3 million to relief efforts as of Friday afternoon, according to an estimate from the U.S. Chamber of Commerce. Sixty-three companies had donated $1 million or more so far.
Walmart has pledged up to $20 million in cash, products and matching donations, while Verizon has contributed $10 million. On Friday, tech billionaire Michael Dell pledged $36 million to relief efforts.
The figures are constantly changing as contributions continue to pour in -- and employee gift matching programs and customer donations are already bringing in even more funds.
"The corporate response thus far [has] been strong," Marc DeCourcey, senior vice president of the Chamber of Commerce Foundation, told CNNMoney.
Related: Impact Your World - How you can help
In 2005, Hurricane Katrina and Rita brought in more than $1 billion in business aid within the first six months of each disaster, according to the Chamber of Commerce Center for Corporate Citizenship.
The Indian Ocean tsunami in 2004 raised $566 million from corporate donations, while the 2011 Japanese earthquake and tsunami brought in $301 million. Hurricane Sandy in 2012 raised $141 million within the first six months in business aid, per the Chamber's data.
Companies have also gone beyond just writing a check, by volunteering, providing in-kind donations like water and food, and encouraging employees to donate by matching contributions, according to Mark Shamley, the president and CEO of the Association of Corporate Citizenship Professionals.
"The bottom line is companies have embraced their civic duty to respond to disasters in ways that transcend check writing," he said.
When companies respond to disasters, they build a tremendous amount of good will externally and internally, says Una Osili, associate dean at the Indiana University Lilly Family School of Philanthropy.
"Employees themselves want to work at companies that are engaged in a broader social good and making the community better," she said.
Many corporate giants are overwhelmingly donating to the Red Cross.
"We are extremely pleased and gratified by the outpouring of support we are receiving to help those affected," a Red Cross spokeswoman told CNNMoney.
Here's a running list of what foreign and domestic companies are doing to help.
Abbott: Abbott and its foundation the Abbott Fund are giving $1 million in grants and healthcare and nutrition products. That includes $900,000 in grants to the Red Cross, Americares and Direct Relief, and $100,000 in healthcare and nutrition products.
Abbvie: The AbbVie Foundation is giving $1 million in grant funding for organizations like Red Cross, AmeriCares, Direct Relief International, and Feeding America. It is also matching employee donations made to relief organizations.
Aetna: The Aetna Foundation announced a $100,000 contribution to both the American Red Cross and the Community Foundation of Greater Houston. It will also donate $50,000 to nonprofit Team Rubicon to assist current and future disaster relief efforts.
Air Products: The Air Products Foundation is contributing $100,000 to the Red Cross and local agencies in the Gulf Coast. It is also matching employee donations.