The brothers behind New York City's waterfront restaurant boom
Olivia Camerini, CNN | 9/5/2017, noon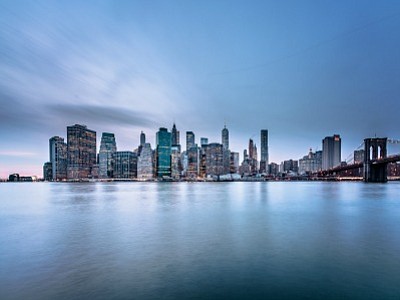 Even though Manhattan is an island, it's easy to get caught up in the whirlwind of the interior of the city and forget that it is, in fact, a waterfront city.
If you're looking for a change of pace from the somewhat chaotic and slightly intimidating drinking and dining scene in New York City, you don't have to go farther than the waterfronts to find an entirely new experience.
Restaurateurs Alex and Miles Pincus have changed the way New Yorkers drink and eat by tapping into the city's waterfronts and creating scenes where you can enjoy the tranquility of being on the water.
Throughout the 17th and 18th centuries, Manhattan was surrounded by oyster barges that, as Alex explains, "were basically saloons on the water where you could go for a beer and oysters." Inspired by this concept, the brothers set out to bring the city's drinking and dining scene back to the waterfronts.
It begins with a schooner
It all started with a 72-year-old codfish schooner that would eventually become a restaurant and oyster bar called Grand Banks. The old sailors' bunks became the kitchen, and the deck was outfitted with two nautical-themed bars and a dining area. Clearly, the concept worked: Even on a weeknight, you may find yourself waiting in a line that extends down the pier.
The nautical-inspired cocktail list includes a wide variety of liquors and flavors and the prices are pretty standard for New York nightlife, around $15 a drink. If you're a tequila drinker, try the Fracas (it includes pineapple and lime along with a smoky mezcal, which creates an interesting contrast). On a brutally hot day, cool off with The Fisher's Country Club (gin, grapefruit, and lemon) or a Skipper Key (rose mixed with strawberry, cucumber and lemon).
Aside from the oyster selection that changes daily, Grand Banks also is known for offering one of the best lobster rolls in Manhattan -- they've truly mastered the mayo-to-lobster ratio.
Other standouts include sea scallops served with bacon and tomato compote, Montauk sea bream ceviche and tomato-and-watermelon salad seasoned with mint, basil and coconut oil. Everything is great to share --and even better when accompanied by a side order of the seaweed salt french fries.
The best things to do in New York City outside Manhattan
Expansion projects
But the best thing to do with a successful concept is iterate it. Alex and Miles Pincus are continuing to expand New York City's waterfront drinking and dining options, opening two new hotspots just this summer: Island Oyster on Governors Island and Pilot in Brooklyn Bridge Park.
Besides being a way to enjoy the New York waterfront, Island Oyster also holds the distinction of being the first restaurant on Governors Island.
While there are a few other venues that offer a waterfront dining experience such as The Frying Pan and Pig Beach, Island Oyster is unique because in addition to great food and drinks, it offers a true island experience. Since it is a ferry ride away from Manhattan, it fosters a much more relaxed vibe and is an all-day destination (perfect for a staycation for New Yorkers or a day trip for visitors).