The brothers behind New York City's waterfront restaurant boom
Olivia Camerini, CNN | 9/5/2017, noon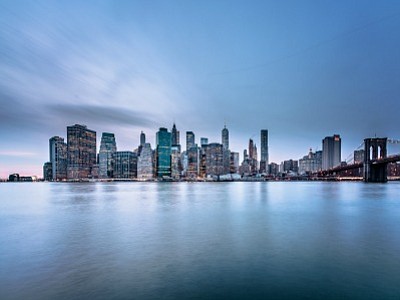 Alex Pincus, who describes that their business model has been "to do what we think is cool and feels good," has transformed a former Lenape Native American Indian hunting and fishing ground into a 32,000 square foot venue and unusual dining destination with the help of Eric Cheong (designer of the Ace Hotel Properties).
The gorgeous space boasts two 50-foot bars and tables so close to the water you may even find yourself in a splash zone; along with recreation areas (including activities such as corn hole and ping pong) and a coffee shop.
This location was also an oyster bed, and the brothers liked the idea of bringing the oysters back to where they came from. Alex describes Island Oyster as a place where you feel relaxed and totally alone while technically inside one of the largest cities in the world. Island Oyster is set to be open until October, and should definitely be on your NYC hit list.
Meanwhile, if you want to try out the Grand Banks concept experience from Brooklyn, the Pincuses have transformed Pilot, a schooner built in 1924, into a bar and restaurant docked on Brooklyn Bridge Park's Pier 6. Pilot has all the same charm as Grand Banks and dawns many special details such as the mosaic-laid tiles in the bathroom. Once built to be the fastest sailboat in the world, Pilot is now serving up the same level of Instagram-worthy food and drinks as Grand Banks against panoramic views of downtown Manhattan.
Two dishes that particularly stand out from Pilot's menu are the Calmar a la Plancha and the Softshell Crab Po'boy. The first is fresh grilled Montauk squid served over a bed of arugula with avocadoes and tomatoes. The Softshell Crab Po'boy (inspired by brothers' New Orleans roots) might take you all day to eat.
And in case you haven't noticed the theme, Pilot also has nautical-themed cocktails: the Life at Sea (vodka, mint, blackberries and lime juice) and the Spirit Animal (light rum, Aperol, coconut, lemon and strawberry).
Like a love of boats, hospitality runs in the Pincus family. Miles and Alex grew up in New Orleans, where their father ran well known restaurants restaurants and hotels such as Royal Orleans. Their father is currently the CEO/GM of Hotel Monteleone, which is also the location of the famous Carousel Bar. (The oyster bar at Monteleone in the '80s and '90s even featured an oyster bar in the shape of a boat...hmm, inspiration?)
While Alex was studying architecture at Columbia and Miles began working on a sailboat, they started spending more time out on the water and realized how largely untapped the city's waterfronts were. Their first venture was a sailing school and summer camp on the Upper West Side called Atlantic Yachting that is still in operation today..
Island Oyster and Pilot, like Grand Banks before them, are redefining New York's dining scene by offering true waterfront city experiences. Whether you live in the city or you're just visiting, all of these venues transport you out of Manhattan's chaos and allow you to appreciate the city's waterways.