If I Were a Parent: Teaching kids good manners
Kelly Wallace, CNN Video by Sandee LaMotte, Mariana Hoysa, Ferre Dollar, Jonathan Schaer and Everett Adams, CNN | 9/7/2017, 6 a.m.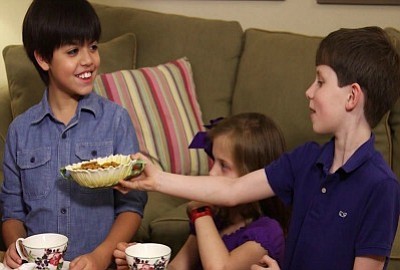 What happens when you ask a group of elementary-school kids how they would teach their children manners if they were the parents? Based on the group of kids we brought together in Atlanta, you get a number of really good ideas. So, parents, listen up!
Katerina Hoysa, 8, said she would take her kids to a really nice restaurant so they could watch how the other diners behaved. "And they'll see how everyone else is doing it, and they'll start doing it too," Katerina said as part of CNN's video series called "If I Were a Parent," featuring conversations with children.
Felipe Ramirez-Abrahamsson, 10, said he would teach his kids himself by sitting at a table and showing them how they should put napkins on their laps and keep their mouths closed while eating. And if that didn't work? "I would probably get them a private tutor if I had to do that," he said.
If he were looking for someone to work privately with his kids, he might turn to Faye de Muyshondt, founder of socialsklz:-), which offers private and group programs to teach children and young adults the social skills they need for the playground and the classroom.
De Muyshondt came up with the idea for her business, now nearly eight years old, while teaching in the Department of Media, Culture and Communication at New York University.
"Social interaction and communication skills were just crumbling," said de Muyshondt, a mother of two and author of "Socialsklz:-) for Success: How to Give Children the Skills They Need to Thrive in the Modern World." When she started teaching, she would look at students during lectures. Five years later, she got used to looking at the backs of computer screens. "So, I mean, we have to teach these skills. It's more important than ever to teach these skills. We've got to start with the basics."
Too many parents either don't teach their kids the basics of manners or try to teach their children at the wrong time, she said. "The big problem is that when parents go about 'teaching' these skills, they're usually in a corrective mode, which is not a teaching moment," de Muyshondt said.
Admonishing a child for not looking someone in the eye while shaking their hand or not saying "please" or "thank you" isn't effective, she said. What parents need to do is teach their kids about good manners, help their children practice and then apply the manners to real-world settings.
"The cool thing about teaching these skills is that every day there's the opportunity to practice," she said. For instance, a parent can teach a child what goes into a greeting and how they need to remember "eyes, smile, body language," and then have them practice it and do it for real.
De Muyshondt likes to role-play with students: She'll do one greeting with her head down, no smile and bad body language, and the kids react by saying she seems angry, mad and unhappy. Then she does a version in which she makes eye contact, smiles and uses good body language, and the kids right away view her as happy and nice.