An easy opportunity to screen moms for postpartum depression
Susan Scutti, CNN | 9/13/2017, 6 a.m.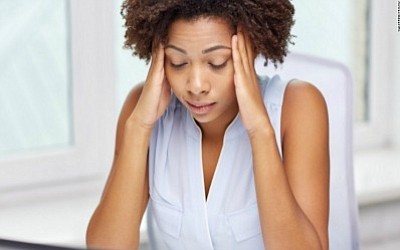 After giving birth, some mothers experience extreme sadness, anxiety and other symptoms of postpartum depression.
Screening mothers for depression during early well-child visits led to significantly fewer reports of depression at nine months postpartum, a new study of 3,000 Dutch women found.
Just 3% of the screened mothers experienced minor or major depression at nine months postpartum, compared with 8.4% of the mothers who weren't screened during the visits, according to the research, published Thursday in the journal Pediatrics.
When it goes unrecognized, postpartum depression can grow serious. If untreated, symptoms may worsen, and recovery may take longer, lead author Dr. Angarath I. van der Zee-van den Berg explained in an email.
"In the worst of cases, a mother could commit suicide. The depression can lead to stress in her relationships, especially in the relationship with her partner," wrote van der Zee-van den Berg, who is completing a Ph.D. in Health Technology and Services Research at the University of Twente. "Also, mothers with postpartum depression have an increased risk of future depressive episodes. Finally, it may take a long time to accept that the period, often expected to be joyful, turned out to be so different."
Wellness for babies -- and mothers
In the Netherlands, well-child care centers offer free visits -- commonly, one at-home visit two weeks after the birth of a child and then about seven subsequent visits at the center itself -- to parents of all newborns. These visits, which boast a 95% participation rate, include monitoring a child's growth, development, health and vaccinations.
For the study, 1,843 mothers visiting Dutch well-child care centers between December 1, 2012, and April 1, 2014, received screening for symptoms of depression at one, three and six months postpartum. Mothers who showed signs of being at risk for major depression at those times were referred to their family physician or a mental health professional.
A separate group of 1,246 mothers received only the usual care during their well-child care visits during the same period.
At two weeks postpartum, all the mothers answered questions on the Edinburgh Postnatal Depression Scale, a well-known screening tool. This depression scale "is not a diagnostic instrument; when a mother scores above the threshold, further diagnosis is necessary," van der Zee-van den Berg noted.
Nine months later, the same scale was used to test for symptoms of depression. At 12 months, each mother's mental health and quality of parenting was evaluated along with her child's socioemotional development.
"It is not easy for mothers to share their feelings, so it is important that the professional is able to build a trust relationship," van der Zee-van den Berg said. "Well child care professionals have this opportunity, as they have frequent contact with the mother."
The results at nine months postpartum showed that fewer mothers in the screening group experienced symptoms of major depression compared with unscreened mothers: 0.6% versus 2.5%. This represents a reduction "by more than 60%" in the likelihood of depression among the screened mothers compared to the usual care group, wrote van der Zee-van den Berg.