An easy opportunity to screen moms for postpartum depression
Susan Scutti, CNN | 9/13/2017, 6 a.m.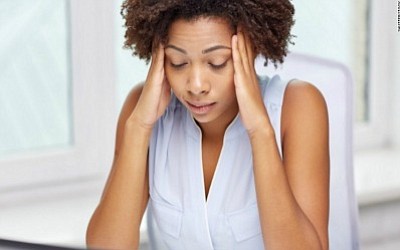 Screened mothers also showed better mental health, less anxiety and higher-quality parenting.
Negligible differences in the children's socioemotional development could be seen across the two groups.
"Implementing screening is a simple and effective way to reduce the burden of postpartum depression -- provided that diagnosis and treatment can be offered," van der Zee-van den Berg wrote.
Treatment options for moms
US Centers for Disease Control and Prevention research shows that about one in nine women experiences postpartum depression.
Mothers who have a family history of depression, those who abuse alcohol and those with a personal history of depression are more likely than others to experience postpartum symptoms. Other factors -- including stress, low social support, pregnancy and birth complications, being a teen mom, preterm birth, birth to multiples and birth to a child requiring hospitalization -- also put women at higher risk of depression.
Kate Jolly, a professor of public health and primary care at the University of Birmingham in the United Kingdom, wrote in an email that the new study was "pretty good quality." Still, Jolly, who was not involved in the research, pointed out a few flaws.
A main problem was imbalance, she said: Mothers with certain traits, particularly those who reported previous episodes of depression, were not equally divided between the two groups.
"A past history is the greatest predictor of postnatal depression, and rates were higher in the usual care group," Jolly wrote.
In her own published research, she and her co-authors reported that exercise is effective in reducing postpartum depressive symptoms.
For women experiencing postpartum depression, "cognitive behavioral therapy or other evidence based counseling is the therapy of choice," van der Zee-van den Berg wrote, basing her opinion on the most recent advice from the US Preventive Services Task Force.
Jolly wrote that "we can't be sure whether exercise means depression can be avoided, but symptoms can be reduced. Trials have generally not included women with the most severe depression, so I think it is accurate to say that exercise is a useful tool for women with mild to moderate depression."
Still, she said, the most important thing to help women with postnatal depression might be "to reduce the stigma around the condition."
"Many women are reluctant to admit they have a problem because they fear they will be judged as a bad parent," Jolly said.
'Somebody cared enough to ask'
Dr. Marian F. Earls, director of pediatric programs for Community Care of North Carolina, found the new study to be "really exciting."
Earls was not involved in the research, though she was the lead author of a 2010 report from the American Academy of Pediatrics that recommended postpartum depression screening for mothers during infant wellness visits.
Extensive studies have not been done, so there's scant information about how well this is implemented throughout the United States. However, based on Medicaid billing data in her own state of North Carolina, 73% of mothers there are being screened at the one-month child wellness visit.
"That doesn't mean people are doing it at all the recommended ages," Earls said, noting that "we've asked folks to screen at the one-, two-, four- and six-month infant wellness visits -- based on when depression might peak, minor or major." Just as in the Netherlands, practitioners in the United States generally use the same easy-to-score Edinburgh scale, she said.
She noted that, in the new study, infants of mothers with depression did not show differences in their level of social and emotional development compared with babies of mothers with no symptoms.
"One of our recommendations is that if you have moms for whom depression screening was positive, then you should follow their infants closely for their social-emotional development," Earls said. "That relationship is so important."
Overall, she believes and hopes that screening for postpartum depression during wellness visits "will continue to grow. I think people understand the importance of this."
Plus, screening has "other positive effects," she said.
It's not only helpful for moms who have depression. Feedback from other moms indicates they appreciated that "somebody cared enough to ask," she said.
"It has really strengthened the relationship between the primary care clinician and the family," Earls said. "It also helps people understand that if (depression) occurs, this is a safe place to bring up those concerns."