Yes, sitting too long can kill you, even if you exercise
Susan Scutti, CNN | 9/13/2017, 6 a.m.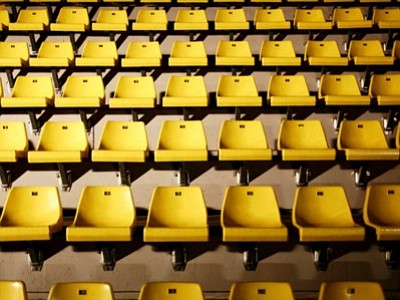 Measuring duration, the researchers clocked participants sitting, on average, for 11.4 minutes at a stretch.
As total sedentary time increased, so did early death by any cause, the results indicated. And the same was true for longer sitting stretches. Overall then, participants' risk of death grew in tandem with total sitting time and sitting stretch duration -- no matter their age, sex, race, body mass index or exercise habits.
"We found that there wasn't a threshold or cutoff where one's risk for death dramatically increased," said Diaz, explaining that risk of death increased with more sitting. "To give you a specific number, those who sat for more than 13 hours per day had a 2-fold (or 200%) greater risk of death compared to those who sat for less than about 11 hours per day."
"Bout duration is a little trickier," said Diaz. Still, he said, the study results indicate that those who frequently sat in stretches less than 30 minutes had a 55% lower risk of death compared to people who usually sat for more than 30 minutes at a stretch.
Finally, people who frequently sat for more than 90 minutes at a stretch had a nearly two-fold greater risk of death than those who almost always sat for less than 90 minutes at a stretch, he said.
Underlying reasons 'unclear'
How sedentary behavior impacts our health in negative ways is "unclear and complex," wrote Dr. David A. Alter, an associate professor at the University of Toronto in Ontario, in an editorial published with the study. Alter, who did not contribute to Diaz' research, said some scientists theorize that more sitting leads to reductions in insulin sensitivity, while others believe net calorie expenditures decline as sitting increases.
The study was not designed to reveal why sitting increases the risk of early death, noted Alter, who described the study as "methodologically rigorous," and its findings "robust."
Arguably, he said, the study's most important contribution involved disentangling two sedentary behaviors: total daily sedentary time and uninterrupted sedentary bout duration.
"Persons with uninterrupted sedentary bouts of 30 minutes or more had the highest risk for death if total sedentary time also exceeded 12.5 hours per day," noted Alter. "Conversely, in those whose daily sedentary volumes were low, uninterrupted bout lengths had little if any associated effects on mortality."
By teasing out these two threads, the findings show excessive sitting is bad and even worse if it is accumulated in lengthy, uninterrupted bouts throughout the day, noted Alter.
Dr. Suzanne Steinbaum, director of women's heart health at Lenox Hill Hospital in New York said, "The more we sit the worse it is. The longer the duration of sitting, the more negative the impact on our cardiovascular health."
Steinbaum, who was not involved in the study, said moving around every 30 minutes is recommended.
"The first time we do this, the positive effects are immediate," she said. "We need to pay more attention to moving."
Asked if, say, a standing desk might be helpful for those who work desk jobs, Diaz said "there is limited evidence to suggest that standing is a healthier alternative to sitting."
"So if you have a job or lifestyle where you have to sit for prolonged periods, the best suggestion I can make is to take a movement break every half hour," said Diaz. "Our findings suggest this one behavior change could reduce your risk of death."