What is 'pumpkin spice,' anyway? And why do we crave it?
Jacqueline Howard, CNN | 9/16/2017, 6 a.m.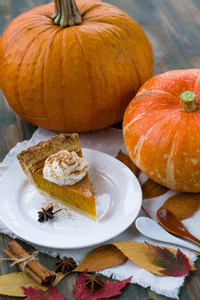 Yet "in the Western world, the aroma of pumpkin spice immediately transports people to all the warm and friendly times associated with pumpkin pie, holiday gatherings, families, celebrations, treats, sweets ... things that childhood memories are made of," Shelke said. "This is why pumpkin spice latte is trendy."
Pumpkin spice seems to have emerged as a common seasonal scent and taste in the home and food market a couple of decades ago, when spiced pumpkin candles grew in popularity, Franssen said.
"Then, a few high-profile companies, like Starbucks, run some super successful experiments, and then you add in the fantastic marketing strategies, and you've got a fad that turns into a trend," she said.
Starbucks first developed its pumpkin spice latte, known as the PSL, in early 2003. In a news release last week, Peter Dukes, the product manager who led the development of PSL, said, "Nobody knew back then what it would grow to be. ... It's taken on a life of its own."
The seasonal beverage, which has its own verified Twitter and Instagram accounts, returned to stores nationwide last week for the fall.
"Marketing is truly the key here, and there's some incredibly interesting neuroscience going on," Franssen said.
The marketing behind many pumpkin spice-flavored items, like the latte, condition our brains to expect that pumpkin spice is the flavor of fall and to anticipate the flavor's arrival each season as something comforting, Franssen said.
"We don't have innate odor responses. We learn odors through associations, but the associations we make with pumpkin spice are generally all very positive," she said.
Though, even without the seasonal marketing, the brain has a special response to pumpkin spice when the flavor is mixed with sugar, Franssen said.
'Actually, scientifically, kind of addictive'
"When an odor or flavor -- and 80% of flavor is actually smell -- is combined with sucrose or sugar consumption in a hungry person, the person learns at a subconscious, physiological level to associate that flavor with all the wonderful parts of food digestion," Franssen said.
By combining the recognizable pumpkin spice flavor with sugar, you train your brain and body to remember how delicious the combination is -- and as soon as you smell or even imagine pumpkin spice, your body will have an anticipatory response and crave it, Franssen said.
For that reason, "the pumpkin spice latte is actually, scientifically, kind of addictive," she said. "Not quite the same neural mechanisms as drugs of abuse, but certainly the more you consume, the more you reinforce the behavior and want to consume more."
On the other hand, natural pumpkin spice mixtures without added sugars, fat or salt could offer some potential health benefits if used in a pumpkin soup or to flavor vegetables, Shelke said. Pumpkin is a source of vitamin A, fiber and other nutrients.
"I love vegetables and consume at least eight to 10 servings of vegetables a day. Pumpkin and its cousins show up in my diet regularly and often with pumpkin spice-like spices," Shelke said.
"Spices are powerhouses of phytochemicals -- chemicals that the plant makes to protect itself -- that can afford us health and protection from many health issues. Like with any food, the amount consumed determines the experience and the benefits," Shelke said.
"All spices come from plants. There are no spices from the animal kingdom," she said. "So, spices are perfect for vegetarians, vegans and those who follow Halal and Kosher diets."
So, if you have the craving, enjoy your pumpkin spice and everything nice.