Hurricane Irma Wreaks Havoc in the Caribbean
Islands' Infrastructures, Economies Left in Tatters
Barrington M. Salmon Special to the Baltimore Times | 9/22/2017, 6 a.m.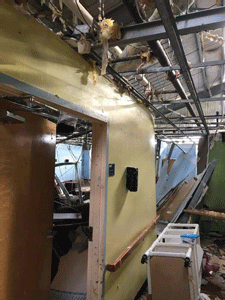 In an interview on NBC's Power Lunch, Mapp lauded the federal response but said "we need more help."
In Cuba, Cuban Civil Defense officials said that Irma caused 10 deaths, five in Havana, destroyed 14,000 acres of fruit, vegetables, rice, yucca and bananas, damaged 40 percent of all sugar mills on the island and in Havana, inundated the capital city with water which with high winds, precipitated the collapse of buildings and other structures.
Roberto Chile, renowned artist, documentary filmmaker and Fidel Castro photographer for more than 30 years, captured Cubans' reactions.
"My words cannot describe what my wife Vivian and I saw yesterday in Jaimanitas, Miramar, Playa, Vedado and Centro Habana," he said in a letter send to friends. "Our chest tightened when we saw a city so happy, so desolate and sad. It will take time to heal us from the wound, but let us all know that we will once again be the city and the country we have always been: cheerful, hospitable, enterprising and virtuous."
"Havana is unknown: collapsed walls, stones and water everywhere, fallen trees and electric poles, cables hanging and on the ground, dark areas, dull, pain and sorrow on the faces, especially those who lost their property or lament the loss of loved ones," Chile explained.
"Irma's bite will not ruin our faith or hope. The love we feel, instead of extinguishing, will shine from now on more than ever. A new blow to the life of Cubans, stronger for some than for others. But we will rise with new zeal and the same faith in tomorrow. God bless the Cuban people. Let the light be again."