Perspectives in Pink: A Call to Action During Breast Cancer Awareness Month
Shana O. Ntiri, MD, MPH Assistant Professor, Department of Family & Community Medicine, University of Maryland School of Medicine | 9/29/2017, 6 a.m.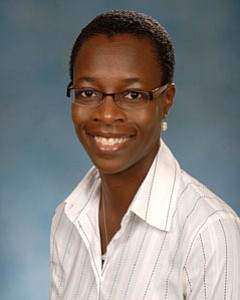 •Lower Your Risk For Breast Cancer— Optimize your health by starting an exercise routine. Consider walking in one of Baltimore's Breast Cancer Awareness walks this October to get you started. If you smoke, make it a priority to work on quitting, and be mindful of the amount of alcohol you drink.
•Be An Advocate— Advocate for yourself or someone close to you. Talk to your doctor about when you should start screening and if you are due for your mammogram, call and schedule your appointment today. If you are up to date with your screening, check with a daughter, sister, mother, friend, neighbor or co-worker to make sure she is too.
•Make Time For Yourself and Your Health— Whether you are busy taking care of children, have a calendar full of meetings and calls, or are self-employed with limited insurance, you must make time for yourself and your health. If you are overdue to see your doctor, schedule your appointment today.
•If You Need Help, Say Something— If you do not have a regular doctor or health insurance, take advantage of programs such as the University of Maryland Greenebaum Comprehensive Cancer Center's Baltimore City Cancer Program (BCCP) to get your screening mammogram. BCCP offers no-cost breast cancer screenings to uninsured residents of Baltimore City. BCCP can also help insured individuals who need financial assistance, assistance with scheduling their appointments or transportation for their mammogram. For more information about NO COST mammograms call the Baltimore City Cancer Program at 410-328-HOPE (4673).
Your awareness can lead to conversations and your conversations to actions that improve breast cancer outcomes in Baltimore and beyond. Be informed. Be encouraged. Be empowered.
Dr. Shana O. Ntiri is the Medical
Director, Baltimore City Cancer
Program, Marlene and Stewart Greenebaum Comprehensive
Cancer Center