Youth Prepare for "Kidpreneur" Event
Entrepreneurship Nonprofit for Children Expands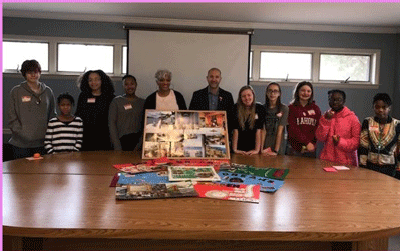 Four years ago, Dr. Marlene Jackson— a Columbia, Maryland resident— and her daughter, Ashley Jackson answered a call to help empower girls by founding a nonprofit called Le' Chic Academy. But young people who wanted to create viable businesses became a part of a growing trend to implement their ideas at an early age. In response, The "Biz Kidz" Program was later added to inspire both girls and boys to build kids' business awareness, explore how to make money as successful kidpreneurs, and engage young entrepreneurs in real-world business experiences. Since the Inaugural Biz Kidz Ribbon-Cutting Award Ceremony/Shark Tank Competition, which was held on November 5, 2016, the program has grown in noteworthy ways.

A public access television series created for and by young entrepreneurs is just one recent accomplishment. "Biz Kidz" partnered with Phil Rogofsky, Director of the Maryland STEM Festival. As part of the partnership, Rogofsky was interviewed by a kidpreneur, during the taping of Biz Startup Kidz episode #5. Additionally, the Biz Kidz In-Flight program seeks to expand Biz Kidz Workshops/Market Day events in schools, churches and libraries throughout the U.S. and Canada. A Girl Scouts' Six-Week Biz Kidz Workshop Series is offered in Md. Additionally, the "Biz Kidz" Programs signature event— a Market Day/Shark Tank Competition & Award Ceremony— will return this month. Maryland's Lt. Governor Boyd Rutherford will be an honorary guest who will present a proclamation to "Biz Kidz," and a congratulatory letter to kidpreneurs who participate on Saturday, April 21, 2018 from 12 pm.- 5 p.m. at The Interfaith Center, located at 5885 Robert Oliver Place in Columbia, Md.
Ambitious youth like Naya Watkins will sell their products, compete to win a laptop, prizes and awards. The 11-year-old fifth grader who hails from Baltimore City is excited to participate and sell her products. Naya, who said that she had unused bead kits at home, began making bracelets for girls and women not too long ago.
"So, my business is called Naya's BB (Bracelet Business) and I'm actually making bracelets," Naya said. "This will be my first time selling my products to the public."
Naya's mother, Melanie Watkins, described her daughter Naya as someone who is crafty, and who possesses a great sense of style and personality. Watkins explained that since Naya is a registered Girl Scout through her school, she receives email notifications about events which are available to them. Watkins allowed Naya to participate because she felt that the Girl Scouts' Six-Week Biz Kidz Workshop Series was right up her alley.
"She (Naya) definitely has the desire to be an entrepreneur…," Watkins said, "so I thought that it would be a great opportunity for her to learn and have some experience through some structured classes."
Naya participated in a goal-setting activity during the Girl Scouts' Six-Week Biz Kidz Workshop Series in mid-February. Girls were tasked with using their imagination to visualize the future of their businesses, while creating vision boards. Marlene added that the Biz Kidz program is now available in schools, groups and organizations. Activities are provided to students and group members.