From Brokenness to Wholeness
The WISEorg helping women battle mental illness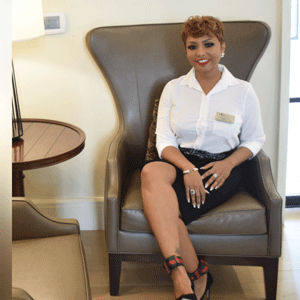 A tragic event in the life of Thomisha M. Duru, caused her to slip into an abyss of depression, ultimately resulting in a mental breakdown.
"My disorders came from grief and tragedy," she said reflecting back on the calamity. "In order to address my mental illness, I had to first recognize I was not feeling well. I had to stand in the truth and admit, I was not okay. Others, then began to refer me to services and a Christian-based counselor in Clarksville, MD."
She added, "My counselor was great. He prayed with me, talked with me, and got me off the couch and out of the bed. He also got me to keep a journal, go to church, and tasked me to participate in activities I enjoyed, but had stopped doing such as bikeriding and painting. He got met to put myself in the environments that spoke life to me. I felt myself slowing coming back."
Dr. Duru Ed.D., found her way back to mental stability and is now helping other women to do the same. She is the founder of TheWISEorg, Inc., (Women's Inspirational Self-Empowerment) a nonprofit organization, that provides physical and mental healthcare, legal services, spiritual restoration and development, employment readiness and other services to women with mental illness at no cost.

"I found that the best counselors did not accept insurance," said Dr. Duru who founded the organization in 2016. "I was fortunate enough to be able to pay for the services. This is one of the reasons I started TheWISEorg. I wanted women to have access to the same type of services that I received."
According to Dr. Duru, the program consists of an eight-week cohort, and works with women with mild to moderate mental disorders. Currently, six women participate in the program, which meets on Saturday mornings. Its spring session started March 17, 2018, and concludes on May 5, 2108. Program offerings also include training, Career college admission, GED prep, CPR training and certification, Housing assistance, food, and weekly care packages.
"After suffering my own mental illness, I woke up in an intrinsic pool," said Dr. Duru. "I realized there were so many women going through what I had just overcome. I realized I had to do something so women could share their experiences, talk about how they were feeling, and to assist them with getting the help they needed without being judged or embarrassed."
Dr. Duru feels many are unnecessarily battling mental illness on their own.
"A lot of women don't know what they don't know," she said. "What I found is that women are nurturers. They are caretakers, and the glue holding families together. We have become a society where we pseudo-function. We keep going even when we are not feeling well."
She added, "Mental illness has such a negative stigma, especially in the African American community. Most associate mental disorders with 'being crazy.' I had to step into a space of saying 'its ok to not be okay' and to speak in truth. I wanted to help other women do the same though an organization that is a 'One Stop Shop' of resources."