Organization Hosts Day of Pampering for Cancer Patients, Survivors and Caregivers
Dareise A. Jones | 4/13/2018, 6 a.m.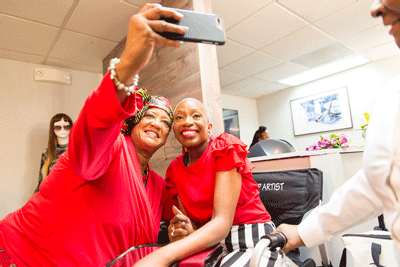 The Western High School graduate who earned a bachelor's degree in Anthropology with a Human Biology Concentration from Temple University and a master's degree in biology from Towson University says that she never imagined she would be in this place in her life at this time. When her mother was diagnosed with cancer, Merritt was traveling around the country conducting clinical research trials and considering a move to Texas. Her plans were put on hold as she helped with her mother's care. A few months after her mother passed away, she had the idea to start a foundation in her mother's memory to provide support for other families out there going through the same thing.
It was clear to see the joy on the faces of the participants after having their hair, make-up and nails done. One woman, currently undergoing treatment for Non-Hodgkin's Lymphoma said being pampered was a blessing. She said she felt "elegant and special" and it was needed after having to stay in the house for a long period of time because of the risk of infection.
This was the goal for Jade and Mikey's Miracle Foundation, to uplift those battling cancer and show them that they are still beautiful despite what this disease does to their minds and bodies. A Beautiful Cause was full of love, hope, support and glam— essential elements for motivating those fighting cancer to continue doing so, with a reminder that they are not doing it alone.
For more information about Mikey's Miracle Foundation, the support it provides or to make donation, visit: www.mikeysmiraclefoundation.com.