Check 'Em Lads: Why Young Men Should Care About Testicular Cancer
Jamin Brahmbhatt, MD, Men's Health Network | 4/20/2018, 6 a.m.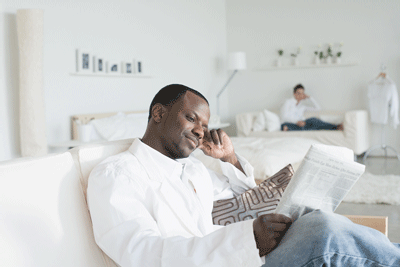 You Have Testicular Cancer, Now What?— So what if you do get diagnosed with testicular cancer? Is it the end of the world? Not really. If you look at statistics from testicular cancer, it has a 96 percent cure rate if caught early.
Treatment options may include removal of the testicle. Based on what pathology is found in the testicle, your doctor may recommend further treatments, which could include radiation or chemotherapy.
Many patients ask, "Okay, what can I do other than examine myself to prevent me getting testicular cancer?" There are certain known risk factors may put you at higher risk for testicular cancer. Those include family history. So if you have a brother or father who had testicular cancer then you are at a bit higher risk of getting it.
Also, studies have shown if you smoke marijuana, your chances of testicular cancer are increased. There are also some links with testicular cancer and your occupation, including: miners, food processing workers, utility workers and other workers who may be at an elevated risk of testicular cancer. During Testicular Cancer Awareness Month starts, don't fool yourself into thinking that you are immune to cancers because of your young age. None of us are immune.
Dr. Jamin Brahmbhatt, MD, is a board-certified urologist and medical advisor for Men's Health Network. He currently practices at the Florida-based PUR Clinic and is also the co-founder of the Drive 4 Men's Health, a multi-day public engagement road trip that has encouraged millions of men to eat better, get active and engage in preventative medical screenings.