JUUL Labs Offers New Device To Help Smokers Monitor, Change Their Habits
Company also launches education efforts to combat underage use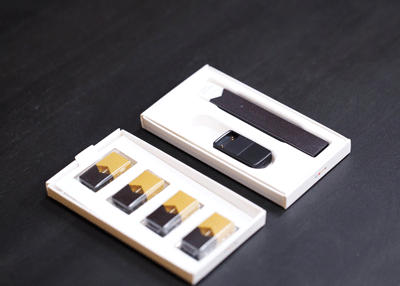 Kevin Burns, the CEO of the e-cigarette technology firm JUUL Labs, said his company is dedicated to eliminating traditional cigarette smoking by offering existing adult smokers a real alternative to combustible cigarettes.
The JUUL device uses an intelligent heating mechanism that creates an aerosol and is engineered to minimize combustion, according to the company's website.
Burns, who formally served as president and COO of the Greek yogurt brand Chobani, told the NNPA Newswire that JUUL remains focused on improving the lives of the more than 38 million adults who smoke in America and the one billion-plus who indulge in cigarette use around the globe.
According to the Centers for Disease Control and Prevention, Black adults smoke cigarettes at roughly the same rate as White adults (16.5 percent for non-Hispanic Blacks vs. 16.6 percent of non-Hispanic Whites).
"This is a product focused on the adult smoker and we want to eliminate smoke around the world and give the smoker the nicotine experience with the switch to e-cigarettes" said Burns, who holds a bachelor of science degree from the University of Connecticut and an MBA from the Wharton School of the University of Pennsylvania.
The JUUL is a slim device that looks like a flash drive. The company, which reportedly has an estimated worth of $16 billion, also manufactures e-liquid "JUULpods" that contain nicotine salts, which Burns said result in nicotine delivery that users find as satisfying as what they get from traditional cigarettes. The liquid pods contain benzoic acid, a naturally occurring ingredient that, when combined with nicotine, helps in mimicking the peak nicotine delivery of a cigarette.
A single JUULpod contains five percent nicotine; a three percent nicotine pod will be more widely available this month, Burns said.
"We hope the availability of different nicotine strengths will continue to allow adult smokers the ability to explore what's best for them," Burns said.
That's important for African Americans, Hispanics, lower-income individuals and many military veterans, all who tend to use nicotine products, he said.
"We think we can bring a solution that can have an incredible impact on people switching from combustible tobacco products [to e-cigarettes]," Burns said.
The company has created educational materials to support underserved communities and they continue to encourage the use of their products by adults only, Burns said.
"Our intent is not to have people who aren't using nicotine products to [purchase our products]," Burns said. "We don't want non-users and we don't want underage users."
JUUL Labs has spared little expense in its educational efforts.
In the United States, youth are more likely than adults to use e-cigarettes, according to the CDC, which makes those education efforts even more critical, as the company expands into new markets.
JUUL Labs established an advisory council for community outreach and youth education awareness and prevention in Baltimore, Md. It's the first city in which JUUL is attempting a hands-on approach, aligning with partners like the Black Mental Health Alliance and Baltimore Corps., an organization that enlists talented individuals in public service and social entrepreneurship in Baltimore.