MSU Launches Food Resource Center For Students
12/7/2018, 6 a.m.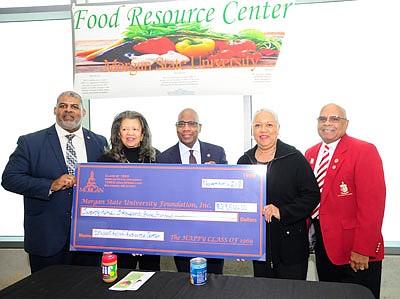 Effort aims to educate the Morgan Community on health strategies while working to address hunger and food insecurity
As part of a proactive effort to relieve students of hunger and food insecurity, Morgan State University (MSU) has launched of a new Food Resource Center (FRC) on campus. Located in the Morgan Business Center— home of the Earl G. Graves School of Business and Management— and overseen by the University's Division of Student Affairs, the center will provide students in need with a centralized location to obtain food resources with the use of their BEARcard student I.D.
The organizers of the FRC also aim to educate members of the Morgan community about healthy food-related strategies and methods such as using coupons, meal prepping, familiarity with nutritional value and proper food selection.
Organizers are working to stock the shelves with canned soups; vegetables and meats; cereal; boxed meals; beans; and condiments and snacks through the collection of funds and food donations for the opening of the center on Friday, December 7, 2018. The center set a goal of collecting 100 bags of nonperishable food items from each of Morgan's schools and colleges and will assist the effort by placing a supervised drop-off box at a convenient location in each school/college as well as in the University Student Center. Once stocked and fully operational, the center will be open on the first Friday of the month from 3 p.m. to 6 p.m., during the academic year.
"Food insecurity is a big issue on college campuses across America, often becoming a critical barrier to student success. So I'm pleased to see the level of engagement from our student leaders in identifying this need and bringing it to the attention of the administration along with a plan of action," said Morgan State University President David Wilson. "It is truly magnificent to see how quickly we were able to come together as faculty, staff and students to address this issue on our campus head-on, and in a manner that is going to make a tangible difference in students' lives. This is how a community comes together; this is indicative of 'the Morgan Way.'"
The Food Resource Center is located in Room 213 on the second floor of the Morgan Business Center. To learn more about how to help or to donate, email: FRC@morgan.edu