IN MEMORIAM: My Legacy with George Herbert Walker Bush
12/9/2018, 3:13 p.m.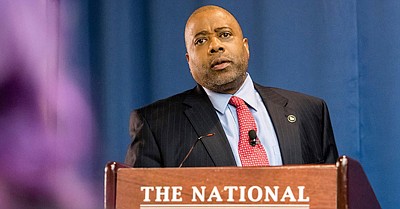 Former British Prime Minister, Sir Winston Churchill once said, "To every man there comes a time in his life when he is figuratively tapped on the shoulder and offered a chance to do a great and mighty work; unique to him and fitted to his talents; what a tragedy if that moment finds him unprepared or unqualified for the moment that could be his finest hour."
This was my first thought when my phone started to ring last Friday night around 11:15 east coast time as I heard about the death of former president, George Herbert Walker Bush, affectionately called by me "Ole man Bush."
How do you explain the intersection of my life with the likes of someone like President Bush? Me, from the hood of St. Louis, him from a wealthy Connecticut family. Me, a member of the baby boom generation, him, of the World War II generation. Me, a graduate of Oral Roberts University, him, a Yale University graduate.
As if this connection wasn't improbable enough, what are the odds of us being connected by Churchill's words?
Bush was tapped on the shoulder when he, against his father's wishes, joined the military right out of high school, making him the youngest navy aviator in our country's history. His plane was shot down during World War II and he was later rescued by a navy submarine.
He was tapped on the shoulder again upon his completion of his studies at Yale University and chose to give up the creature comforts of his wealthy upbringing and strike out on his own in the oil business in Odessa, Texas.
Bush was tapped on the shoulder many more times, like when he created a Yale chapter of the United Negro College Fund (UNCF) in 1948, gave royalties from his book to the UNCF, and had his brother Jonathan serve as chairman of the board of directors for the UNCF in the early nineties. He was the U.S Envoy to China, headed the CIA, and served as Chairman of the Republican National Committee, vice president, and president.
Now, juxtapose that with my tap on the shoulder in September of 1987. I received a phone call from some guy named Bucky Bush and he stated that "they" had been monitoring my career and political activities.
Needless to say, I was both scared as hell and pissed at the same time. Who the hell is Bucky and why in the hell is he telling me "they" had been following my activities.
Bucky, whose real name is William H.T. Bush, was the brother to the then sitting vice president, George H.W. Bush. They have a lot of family in St. Louis who I remain very close to.
Now get this, Bucky went on to say to me in that September of 1987, "we" know you are studying for the C.P.A. exam, which I was, so please give me a call after your exam in the first week of November and I want to take you to lunch.